The crushing economic recession of 2008 continues to manifest itself on stages across the Bay Area — most recently The Cargo Cult by Mike Daisey gave us joyous visions of corrupt bankers falling into volcanic lava. This time the financial malaise provides more comic fodder with an edge, thanks to Allison Moore's tight new play Collapse which opened last night in Berkeley.
There is a figurative meaning in the title that extends beyond the economy, companies and marriage.
In 2007 the section of Interstate 35W spanning the Mississippi River collapsed. Given that the bridge carried 150,000 cars across the river every day, it was a miracle that more people were not seriously injured. The juxtaposition of these two events — a tragic disaster and the economic meltdown — amazingly, results in quite an entertaining production.
The play opens with stressed wife, and struggling lawyer Hannah (Carrie Paff) bent over the couch getting a shot of hormones in the butt from her beer guzzling husband David (Gabriel Marin). Times are tough in Minneapolis. In pops Susan, the free spirited sister from L.A. who's in to "going with the universal flow" and bringing along unwelcome secrets. Later outside the self-help district of town (kind of like the support groups in Fight Club) she runs in to Ted (Aldo Billingslea) who claims to be both a recovering sex addict, and impotent.
"I'm tired of being sad all by myself."
Nerves are frayed and everyone is operating in a peak neurotically-charged frenzy — with non-stop laughs in tow. There are sit-com like bits at the beginning with well-timed punch lines and gags. Moving briskly the play descends into a dark place. Once the laughing subsides, there is time for reflection, critical self-analysis and possible atonement. Hope here is coated in reality which helps the material and message rise above melodrama.
Should we worry about that which we cannot control?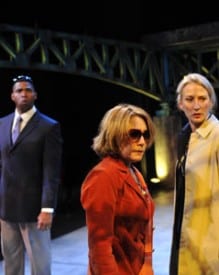 At 80 minutes (with no intermission) Collapse is a whirlwind of ups and downs. The four characters are cleverly woven into a narrative that carries more than a few twists and surprises. The acting is polished; impressively all four (equity) performers demonstrate a knack for generating laughs while retaining a somber depth that we can all relate to in some way.
Needless to say a bridge figures into the story, and the set (Melpomene Katakalos) features a partial bridge construction that juts out above the thrust stage at Aurora Theatre. It ominously signifies the fears and doubts that hang over this family, and is a striking design.
There are some moments that are just this side of over-the-top perhaps. Hollering, and epiphanies come rapid-fire pace near the play's end. But the final scene is gentle and very human, and really captures the essence of what moves us (and the country) forward under the most dire of circumstances.
Collapse
Aurora Theatre Company, Berkeley
3.5 out of 5 stars
by Allison Moore
Directed by Jessica Heidt
Cast: Carrie Paff, Gabriel Marin, Amy Resnik, Aldo Billingslea
Through March 6 ,2011

Photos by David Allen.