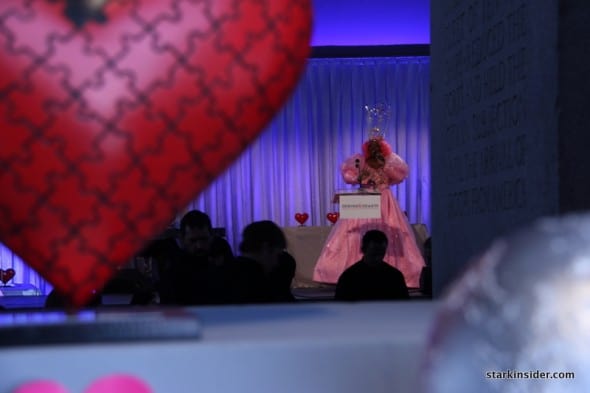 San Franciscans have descended upon Union Square to support a great cause. Every year Heroes & Hearts is held to honor individuals who inspire others through exceptional community service.
Since its founding in 1994, the Foundation has raised over $50 million, helping to directly impact nearly 100,000 patients each year.
We were on location for the — often emotional and always inspiring — benefit luncheon today to speak to some of the organizers, a hero and one of the artists whose vibrant heart sculpture can be seen gracing the entrance; a nice mix of people who are bringing the love one heart at a time.
Former mayor Willie Brown was in attendance to to present "The Spirit of the General" award to SFGH Foundation Board President Judy Guggenhime.  It was a special award separate from the H&H awards. An aside, I can attest that the man is as feisty as ever. Newly elected San Francisco mayor Ed Lee was also on hand to discuss some of the efforts underway across the city to ensure care and support is there for generations to come.
We have more on the event including photos of the sold-out $300 lunch, plus interviews as well.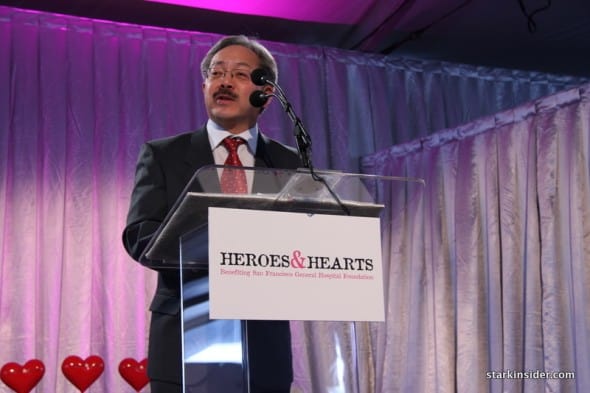 In other news, we've done some early spring cleaning on the Stark Insider look and feel — nothing too dramatic, just a fresh coat of paint and some gloss. There are other things in the works that I can't wait to share here, so stay tuned for some more announcements.
On the gadget front, Volgel's All-in-One iPad holder featuring "Ringo" just arrived for review in our "labs" (yes, right next to the submarine, impressive array of test tubes, and giant replica of Barbara Eden. The kit includes a holder, wall mount, car mount and table stand.
Also a press copy of Silicon Valley legend Guy Kawasaki's new book Enchanted has also arrived. It will go to a different department where it will be steadfastly read by our crackpot team of old school paper book readers. When I opened the book I randomly flipped to a page…there was a photo of Guy with his son hanging out on the ice with Calgary Flames president Ken King. Okay, I admit, this one is scoring points already. What exactly is enchantment? We'll find out soon enough, but I have a feeling Twitter and Facebook are somehow involved, but I could be wrong.
Finally, the wines are a-flowing, and we have many more samples to make our way through. Look for a Bordeaux round-up, some of Napa's best Cabs, some crisp whites… and just about everything else that gives our lives that extra little bit of pop. Mais oui!
See you soon, and thanks for visiting. It's been an incredible 3 years so far, and only minor injuries incurred in the process.