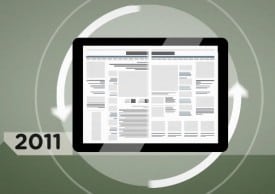 It was almost as if Google had planned this timing all along… just one day later, publishers now have a choice of payment systems for online subscriptions. With Google One Pass — the answer to the Apple iTunes publisher subscription model announced yesterday — newspaper and magazine publishers will retain a larger chunk of the revenue. At 10% the new program could be significantly more attractive, compared to the 30% premium that Apple commands.
Further, Google will provide control to consumer data which could prove a key differentiator over the Apple approach which many consider overly restrictive.
"The overall goal is to bring publishers a simple way to charge for content they choose to charge for, and for readers to have simple access without any restrictions on which devices they use," said Jeannie Hornung, a Google spokeswoman.
Google One Pass is currently available in France, Germany, Spain, the UK, and the US and Canada. Publishers in any country where Google Checkout is available can implement Google One Pass.
According to Google, "Publishers have control over how users can pay to access content and set their own prices. They can sell subscriptions of any length with auto-renewal, day passes (or other durations), individual articles or multiple-issue packages. Google One Pass also enables metered models, where a publisher can provide some content or a certain number of visits for free, but can charge frequent visitors or those interested in premium content based on the business model that the publisher prefers."
Once again heavyweights Apple and Google are going toe-to-toe in a large market. Google is competing on price, while Apple is competing based on premium design and a large user base (iPhone, iPad, etc.). Likely there is room for both approaches, and publishers can now choose which best suits their business objectives.