Back in the day, before the Internet, it wasn't easy juggling three airline mistresses. Fortunately, the "timetable"  was swinging man's best friend. With it, you could fly the friendly — American, German and Italian — skies, and still have time to design a building or two, and groove out to some hipster tracks in your funky 1960s Parisian flat.
Yeah, baby… for a guy like me Boeing-Boeing is the kind of play with educational value.
If the story sounds somewhat familiar that's because you might have seen one of the four film adaptations or contemporary works at least partially inspired by the play which premiered in 1960. The Tweet of it: a Jack Tripper and Austin Powers mash-up that results in plenty of hi-jinx, surprises, and, ultimately, love for all.
The show is anchored by two strong performances in Liam Vincent as Bernard, the fiancée juggler, and Alex Moggridge as Robert, an old school chum who stumbles upon the escapades. I'd last seen Vincent as a strong lead in She Stoops to Comedy at SF Playhouse; and Moggridge, who surprised me here with his adept physical comedy and timing, in a haunting The Weir at San Jose Repertory Theatre. The two have strong chemistry and alternate as ringmasters of sorts: stumbling over shag furniture, getting out of jams with a smooth move or two, and dreaming of romance — not to mention, the female form.
But we're here because of the sexy flight attendants uniforms!
The costumes (Victoria Livingston-Hall) are a hoot; lots of pastels and over-the-top 1960s pep. Jennifer Erdmann, Kelsey Venter and Jessica Lynn Carroll respectively play the German, American and French love interests. Of course each works a different airline, all the better to keep their worlds apart. Well, at least until a certain Boeing aircraft throws a wrench into things, much to the continual befuddlement of about-to-quit housekeeper Bertha (Lynda DiVito).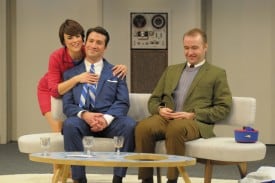 Likewise the set, expansive and airy, captures the free-wheeling early 60s mood ravishingly well. A three-legged coffee table sits in the center of the apartment with swanky, low-lying shag-covered furniture throughout. A reel-to-reel serves up some hipster tunes, perfect accompaniment for the twist and a martini. The multitude of doors hint at some of the shenanigans to follow.
Not everything works here. Some of the comic bits falls flat, notably the scenes between Bernard and his housekeeper. And perhaps the production runs a wee bit long.
Boeing-Boeing is a light-hearted romp with lots of laughs and solid performances all around. It's a smart choice of material, and a welcome break from more common Broadway fare. Now, I need to go find myself a timetable.
Boeing-Boeing
Center Repertory Company of Walnut Creek, Margaret Lesher Theatre
3 out of 5 stars
By Marc Camoletti
Translated by Beverly Cross and Francis Evans
Directed by Michael Butler
Starring Jessica Lynn Carroll, Jennifer Erdmann, Kelsey Venter, Lynda DiVito, Alex Moggridge, Liam Vincent
Through February 26, 2011

Noteworthy

Per Wikipedia: "In 1991, the play was listed in the Guinness Book of Records as the most performed French play throughout the world."

"Everything is curvy and groovy … and every surface in our set is a place where you could make out." — artistic director Michael Butler (page 16/17 "The Mile-High Club" in Diablo Arts magazine).

Once again ice cream is served! A tradition I can appreciate… at intermission, small servings of Häagen-Dazs are served in the theater.

Next up at Center REP: To Kill a Mockingbird (April 1 – 30), The Lady With All the Answers (April 28 – May 15)
Photos by: www.kevinberne.com