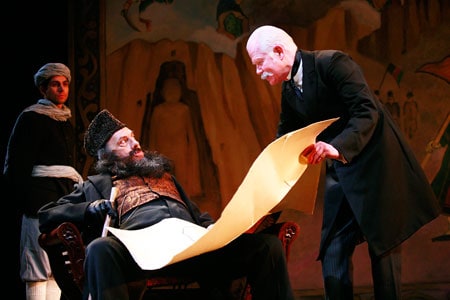 When The Great Game: Afghanistan (review) made its West Coast premiere at Berkeley Repertory Theatre as part of a four-city American tour, local audiences received an epic education in the history of Afghanistan. Now this powerful series of plays – which originated at the Tricycle Theatre in London – returns to Washington, DC for two day-long private performances on February 10 and 11.
With the support of the Bob Woodruff Foundation and the British Council, The Great Game will be presented at the Shakespeare Theatre Company's Sidney Harman Hall to audiences of policy and decision makers, military and government officials, corporate and private America, and injured service members, veterans, and their families. The Pentagon performances follow the highly acclaimed American tour, which began in the nation's capital and visited the Guthrie Theater in Minneapolis, Berkeley Rep, and The Public Theater in New York.
Officers in the Joint Staff's Pakistan Afghanistan Coordination Cell, which provides advice and support to military leadership on Afghanistan-Pakistan issues, first attended public performances of The Great Game in Washington in September. They thought the plays could serve as a unique learning tool for military personnel wanting to better understand Afghanistan's culture and history.
The Tricycle Theatre together with the United Kingdom's Ministry of Defence organized a similar private viewing of The Great Game in July 2010 before the plays left London for the US tour. The UK's top military commander General Sir David Richards said, "I can tell you that the Ministry of Defence as a whole, and certainly the armed forces desperately want to understand the country well, and this series of plays – if I had seen it before I had deployed [to Afghanistan] myself in 2005 for the first time – would have made me a much better Commander of the ISAF Forces."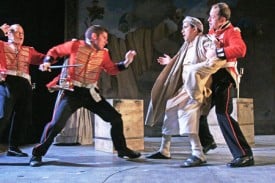 Nicolas Kent, artistic director of the Tricycle Theatre, remarked, "We are honored to have been asked to do these performances for the Pentagon. It confirms the power of theatre to engage with contemporary policy issues and spark debate, to educate and to challenge, as well as to entertain."
Tony Taccone, artistic director of Berkeley Rep, added, "It's really exciting and fills me with optimism that the people at the Pentagon are willing to take a look at this great theatrical event, which is clearly a serious investigation into whether or not we should be in Afghanistan. The fact that our military leaders can engage in that kind of dialogue is a statement about the strength of our democracy. We are proud to have been a part of bringing this show to the United States."
The British Council, the UK's international cultural relations and education organization, supported the US tour of The Great Game. Sharon Memis, British Council Director North America, said, "We are delighted that the Pentagon will have the opportunity to see The Great Game. We believe the arts are uniquely capable of providing us with a different perspective on complicated issues like Afghanistan, its history, and its people – they provoke strong emotions and empathy in an accessible space."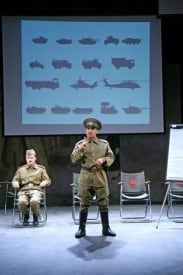 By raising awareness about the cultural and historical influences of Afghanistan and the warriors who have experienced the physical, psychological, and spiritual trials of combat there, the Bob Woodruff Foundation is challenging attendees to walk away from this presentation not only with a deeper understanding of Afghanistan but with a renewed commitment to support those who fight and with lifelong dedication to those who are injured and their successful integration into our communities.
"This international collaboration with the British Council enforces our commitment to support coalition troops," said René Bardorf, executive director of the Bob Woodruff Foundation. "Through this theatrical interpretation of the historical dynamics that have shaped the complex cultural influences and traditions of Afghanistan, it is the Bob Woodruff Foundation's intent to have attendees engage in a dialogue about strategy, policy, and education of the public in order to ensure lifelong tangible support for our military families, who have borne the physical and psychological wounds of war."
Whether you know it or not, you're part of The Great Game. A sweeping cycle of short scripts –presented in an impassioned marathon that takes seven and a half hours to perform – this unprecedented show explores Afghanistan over the last 160 years. Twelve prominent playwrights contributed to The Great Game: Richard Bean, Lee Blessing, David Edgar, David Greig, Amit Gupta, Ron Hutchinson, Stephen Jeffreys, Abi Morgan, Ben Ockrent, Simon Stephens, Colin Teevan, Naomi Wallace, and Joy Wilkinson. Each crafted a short play, which together create an impressive mosaic of Afghanistan's history and culture. A captivating collection of stories directed by Nicolas Kent and Indhu Rubasingham, The Great Game is performed by 14 of Britain's finest actors. It's an emotional event that illuminates the complex culture of another land.