Napa Valley Film Festival (NVFF) Co-Founders and Directors Brenda and Marc Lhormer enthusiastically announced the success of a series of launch events – presented by The St. Regis Deer Valley – during the 2011 Sundance Film Festival. Featuring acclaimed Napa Valley Chef Michael Chiarello, of Bottega restaurant and NapaStyle, as well as 16 of Napa Valley's finest wineries, the events announced the Festival's first call for entries and introduced the new NVFF, an official Sundance Institute Associate, to Sundance attendees from around the world. Showcasing the best of new independent cinema while embracing the epicurean pleasures of Napa Valley, NVFF will debut November 9-13, 2011 with a five-day festival spread over four of the Napa Valley's postcard-perfect towns.
"If the Napa Valley Film Festival's party at Sundance was an indication, my home town should get ready for a high quality treat," said Gary Meyer, Co-Director of the Telluride Film Festival. "It was civilized, had great food and wine, was easy to move around and a fantastic crowd. I expect the movies and festival events will be equally special in November."
The NVFF events at the 2011 Sundance Film Festival kicked off with an intimate VIP reception at The St. Regis Deer Valley's Salon attended by 125 industry guests, including Academy Award-winner Susan Sarandon. The actress chatted with Sheila Johnson, founder of Black Entertainment Television, while enjoying sparkling wine from Schramsberg Vineyard.
Guests dined on passed appetizers including: Swordfish Meatballs with fisherman sauce and salsa verde, Angry Prawn Spiedini and Pasta Fritta with San Daniele prosciutto wrap.
Following the reception, The St. Regis Deer Valley and the Lhormers co-hosted a private dinner for 55 guests in The St. Regis Wine Vault at JG Grill, which featured a five-course menu created by Chef Chiarello. Attended by Sundance Patrons, notable business executives, filmmakers and media, guests feasted on the best of Chef Chiarello's classic cuisine. Courses included Grilled Octopus with olive oil braised potato, arugula salad and salsa verde and Whole Roasted Short Loin of Beef with ancient grain polenta, five onion cavalo nero, and cavalo crostino.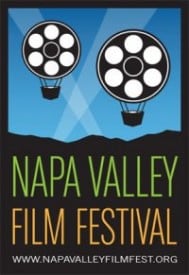 "The buzz among film industry insiders was terrific and everyone agrees … A perfect alchemy exists when you blend the flavors of America's best chefs and vintners with the brilliant storytellers of film and the backdrop of scenic vineyards," said Michael Chiarello, Chef and Owner of Bottega. "The new Napa Valley Film Festival is not to be missed by lovers of food, wine and film."
The next day, the "Sundance House presented by HP" in downtown Park City was transformed into a "Napa Valley Barrel Cellar" for the official Napa Valley Film Festival Launch Party. The event was attended by 350 Sundance Patrons, industry executives, film directors, actors, agents, publicists, and media, and showed off a taste of Napa Valley's finest food, wine and hospitality – a preview of what to expect at the first annual NVFF in November 2011.
The entrance of the party was decorated with an enormous art piece made of barrel staves engraved with the NVFF logo and the large, low-lit room featured images of stacked wine barrels lined against the walls. Vintners poured their finest wines on large barrels with wood plank countertops. Guests were also treated to a large-scale digital display of picturesque Napa Valley scenery against the barrel-lined wall while enjoying Chef Chiarello's most famous dishes. Everyone raved about the Pumpkin and Fontina Risotto and the Lamb Spiedini with roasted onions, as well as the premium wines offered by: Cimarossa, Farella Park Vineyards, John Anthony Vineyards, Allora Vineyards, David Arthur Vineyards, Gemstone, Raymond Vineyard and Cellar, Salvestrin, Chimney Rock Winery, Tom Eddy Winery, Chiarello Family Vineyards, Gargiulo Vineyards, and Matthiasson. A smaller room was set up as the exclusive "St. Regis Deer Valley Wine Vault," with St. Regis Butlers welcoming guests into a comfortably elegant lounge, where Parallel Napa Valley and Staglin Family Vineyard wines were poured and dessert stations tempted food lovers with Chef Chiarello's Apple Fritters, Truffles and Olive Oil Carrot Cake.
Amidst the fabulous food and wine events, Brenda and Marc Lhormer announced the Napa Valley Film Festival is now officially welcoming submissions of any theme and will be selecting more than 50 new films, including narrative features, foreign films (world cinema), documentaries, short films, and student works. Organizers are looking for films that best entertain, inspire, educate and intrigue audiences. Categories eligible for Juried and/or Audience Awards include: Best U.S. Dramatic Feature, Best U.S. Documentary Feature, Best World Cinema (Dramatic and Doc), Best Live Action Short, Best Animated Short, and Best Documentary Short Subject.
Submit your film to NVFF!

Filmmakers can submit films at Withoutabox.com. For early submission with discounted entry fees, deadline is February 28, 2011; regular submission deadline is April 15; late submission deadline is May 31; and the final extended submission deadline (for withoutabox.com members only) is June 30, 2011.
The inaugural NVFF (November 9-13, 2011) plans to present more than 50 new films, including narrative features, foreign films, documentaries, short films, and student works. Discussion panels with industry executives, Q&A sessions with the filmmakers, food and wine tastings, opening and closing night premieres and parties, awards ceremonies, VIP receptions, and celebrity tribute programs are all key ingredients rounding out the full NVFF experience. NVFF will also feature a unique community-focused footprint, with screening and hospitality venues clustered in four walk-able villages in Napa Valley's distinctive small cities and towns: Napa, Yountville, St. Helena and Calistoga. Films and filmmakers will travel from village to village, while festival attendees can choose whether to remain in one community or to sample the different venues.
Participation opportunities for the inaugural NVFF are available now, with Passes on sale at discounted rates until March 31. Also available are a limited number of Founding Patron Packages ($2,500) that offer a fully immersive VIP experience.