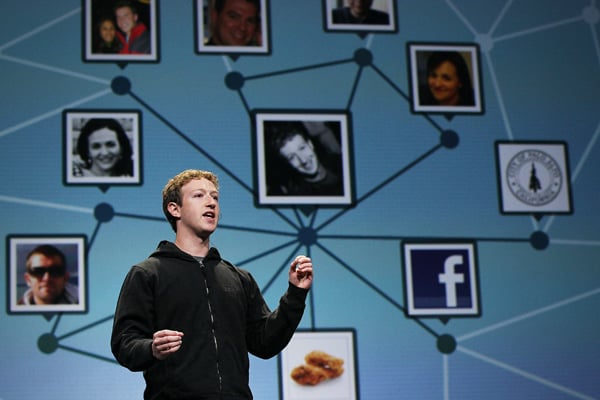 Consider it The Social Network for TV, or another chance to examine the cultural phenomenon that is Facebook. Regardless how you slice it, CNBC is premiering The Facebook Obsession which, according to the promotional material, will tell "the real story behind the rise of the largest social media site in the world."
It's worth pointing out that the broadcast coincides nicely with the opening day of the Consumer Electronics Show (CES) in Las Vegas. Perhaps it will make for some bar conversation in between mad-cap tablet and smartphone demos.
Did you know?
With more than half a billion users around the globe, there are more people on Facebook than there are in the entire United States.
Altering American life
The one-hour documentary chronicles the growth of the nation's most popular website through its founders, friends, and foes.
Correspondent Lester Holt delivers a comprehensive look at how this Internet phenomenon, with half a billion users, is affecting society in ways most people are unaware of. From a girl who is reunited with her birth mother with the help of Facebook, to a woman who lost her job because of her online postings, "The Facebook Obsession" examines how the site is fundamentally altering American life for better or worse; even the White House and many police departments have their own Facebook pages.
Holt introduces viewers to a range of Facebook users whose experiences on the site vary greatly.  He follows the emotional journey of a young Ohio woman who uses the site to reunite with her biological mother in South Dakota. But some users tell a cautionary tale, like June Talvite-Siple, who turned to her private Facebook page to vent to friends and family about her teaching position, only to find she had unwittingly shared her negative comments with school administrators.  She soon found herself unemployed and her 30-year career in education in jeopardy.
Form dorm room to $B enterprise
Holt explores the intense privacy debate that Facebook has provoked, and explains the business model that has turned a dorm room venture into a multi-billion dollar enterprise.
A preview of the show should be available today on CNBC's Facebook page.
CNBC's "The Facebook Obsession" will re-air on Thursday, January 6th at 10pm ET/PT, Friday, January 7th at 8pm ET, Saturday, January 8th at 7pm ET and Sunday, January 9th at 10pm ET.