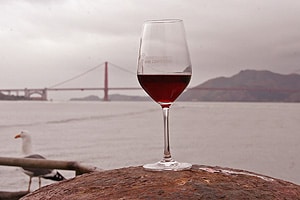 Quick suggestion: if you like tasting great wines, pitch a tent somewhere near Fort Mason in San Francisco. There are many impressive wine events held in the pavilions here. Over the weekend ZAP (Zinfandel Advocates & Producers) was held with over 8,000 attending and 240 wineries pouring. Now here comes the 2011 San Francisco Chronicle Wine Competition Tasting.
Recently 60 judges tasted through 5,050 American wines tasted representing 23 states. Judges selected the very best "sincerely, honestly and blind."
The tasting will feature thousands of the country's finest wineries and their awarded wines, along with a truly exceptional spread of gourmet fare. Unpretentious and fun, this popular event encourages everyone to come together, learn about many new wines and enjoy a dream fulfilling new wine experience.
The SFCWC Public Tasting provides a wide array of delectable varietals and victuals that can be enjoyed while gazing at the sweeping views of the Golden Gate Bridge, Marin County and the San Francisco Bay. Gourmet food website www.SavorCalifornia.com provides delicious hand-crafted creations from premier artisan food purveyors, including artisan breads, savory meats, exotic oils, hand crafted cheeses, delicious desserts, floral jams, sumptuous sauces, and other fabulous creations provided by the California Culinary Academy.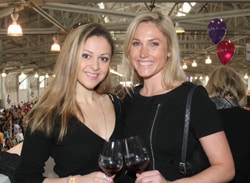 Founded in 1983 as the modestly sized Cloverdale Citrus Fair Wine Competition, the SFCWC has evolved immensely over the years, expanding its eligibility to wineries throughout the United States. In 2000, the event gained sponsorship from the San Francisco Chronicle and appropriately assumed the title the San Francisco Chronicle Wine Competition.
The proceeds of the San Francisco Chronicle Wine Competition support the non-profit Cloverdale Citrus Fair and help support wine and food education at educational institutions and non-profit organizations. Santa Rosa Junior College Wine Studies Department and the Culinary Arts Program, Fresno State University Enology Program, California Polytechnic State University Enology Program at San Luis Obispo, and other non-profit organizations have received support from past competitions.
2007 marked the first year that the San Francisco Chronicle Wine Competition officially broke world records, boasting an astonishing 3,800 American wine entries. Formally established as the largest competition of American wines in the world in 2008, the SFCWC proudly hosted a competition of over 4,736 wines.  2011 continues to uphold the title of the "Largest Competition of American Wines in the World" with a staggering number of entries, 5,050 from 23 states.
San Francisco Chronicle Wine Competition Public Tasting

WHEN: Saturday, February 19, 2011

WHERE: Festival Pavilion, Fort Mason Center, San Francisco

TIME: 2pm – 5pm

COST: Advance Tickets $65.00

Tickets at the door $80.00 (if available, this event is usually a sellout)

INFO: Click here to order tickets online.