The Orpheum in San Francisco was all things green last night as everyone's favorite ogre, Shrek, lumbered into town. Based on the book (1990) and successful film starring the voices of Mike Myers, Eddie Murphy and Cameron Diaz, the touring show retains most of the elements and storyline, but applies the tried-and-true Broadway musical formula (song, scene, song, scene…).
Those with children will (a) already know the material inside-out, and (b) surely be pleaded, pulled and cajoled into the swamp at the Orpheum to see if Shrek can once again find love, despite his unpopular looks.
Fortunately, the production features lots of adult in-jokes, winks and enough cynicism ("And every dream comes true / But not for you") to keep us older ones fairly amused throughout.
Shrek the Musical, though, is an uneven affair. The musical numbers, unlike say Beauty and the Beast or Fiddler on the Roof, are quite forgettable, both lyrically and musically. This is not Broadway's best stuff. Also, the acts are somewhat disjointed, and a lot of the humor falls flat. If you're into gas, swampy and human, you're in for some over-the-top antics not typically seen in a musical. I think Chris Farley would approve. Me, I'm a bit of a goofball when it comes to jokes involving bodily functions. Banal, yes. I blame my Dad.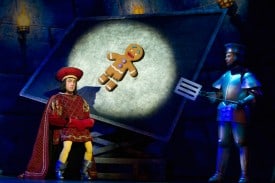 As the larger-than-life Shrek, Eric Petersen delivers a surprisingly restrained, nuanced performance. It's quite vulnerable, and like the onion analogy he uses to describe himself somewhat unsuccessfully to donkey (an energetic Alan Mingo, Jr.) reveals a tormented and complex personality. His eyes, along with body language tell us most of what we need to know about the Ogre that wants to build a 10-foot wall around himself and the world. Still, it's somewhat hard to imagine Shrek as anything but a DreamWorks animation, and bringing this unique character to life is somewhat of a challenge.
Haven Burton is solid as Princess Fiona. She especially does well in the Act 2 opener "Morning Person." Someone call up Julie Andrews, we have a Sound of Music sequel in the making. Then again, six cups of coffee could help any of us win a chirp-off with a bird.
However, David F. M. Vaughn steals the show as Lord Farquaad, possibly one of the funniest and quirkiest villains to ever hit the stage. Played on his knees, the undersized would-be prince with the silky and straightened jet black hair hops, shuffles and jigs his way around his castle as he commands troops and hatches a plan to marry Fiona. At times, he's a bit like an androgynous distant relative of Martin Short's famous Ed Grimley. Or maybe it's what an Elvis flashback what look like on hallucinogens. In one hysterical scene his guard uses a a slotted turner to torture a gingerbread man who proves to be quite a mouthy little adversary.
Another highlight is a giant dragon, controlled by four skilled puppeteers. Accompanied by the soaring voice of Carrie Compere and colorful flame effects, it made for an impressive visual and aural spectacle.
While Shrek the Musical is decent, it's ultimately a far cry from better productions seen earlier this season such as the aforementioned Beauty and the Beast and Fiddler. There's enough laughs here for the adults and kids, though, to make for an entertaining journey to the swamp and Duloc. It's just rather difficult to imagine Shrek as anything other than the Mike Myers-voiced animated legend and pop culture icon that he's become.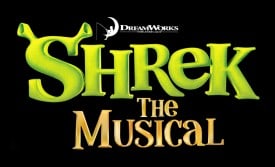 Shrek the Musical
3 out of 5 stars
Orpheum Theatre, San Francisco
Directed by Jason Moore and Rob Ashford
Starring Eric Petersen, Haven Burton, Alan Mingo Jr., David F.M. Vaughn
Book by David Lindsay-Abaire
Music & Lyrics by Jeanine Tesori
Dec 1, 2010 – Jan 2, 2011
Running time: 2 hrs, 30 min (including 20 min intermission)
Tickets: $30-$99