Fred Astaire, Ginger Rogers, dance on air.
Backwards in High Heels may well be one of the most graceful and beautiful musicals I've ever seen at the San Jose Repertory Theatre. Ginger Rogers, the flamboyant personality who captured America's imagination during the golden age of Hollywood, was even dancing before she was born, at least according to her overprotective mother.
A trail blazer, Ginger (then still using her real name "Virginia") won a Charleston contest in 1925 in her hometown of Fort Worth at age 15, and after successful stops in Chicago, Philly and Broadway headed to the City of Angels, where a contract with RKO would turn her into a star. She won an Academy Award in 1940 for Kitty Foyle (ironically for an against type dramatic role) and by 1945 was the industry's highest paid star. All told she made 73 (!) "pictures," but it was her partnership with Astaire that revolutionized the genre.
The uber Madonna/Lady GaGa/Nicole Kidman mash-up of her time, she was also notoriously difficult to work with, perhaps also establishing laying the groundwork for modern day divas that would follow.
But in Backwards in High Heels, a co-production with Asolo Rep, Arizona Theatre and Cleveland Play House, the dancing and singing are rightfully front and center.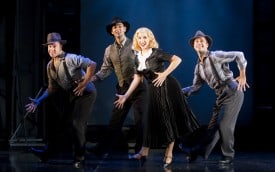 Driven by a superb, charming performance by lead Anna Aimee White, the show moves gracefully from one beautiful dance number to the next. Short scenes in between establish the bond between Ginger and her mother that starts strong (though mother Lela thought the stage name Ginger was perhaps "too loose") but ebbs and flows as disagreements about her personal life surface.
If the production started a little slow and laid back, by the time Fred Astaire (Matthew LaBanca) saunters onto the set, the party shifts into high gear — and Ginger turns blonde. The chemistry between White and LaBanca, as they dance classics such as "Fine Romance" and "Pick Yourself Up," is irresistible. I admit at feeling somewhat underdressed at this point; the costumes are so elegant that I was reminded of what it meant to be a gentleman in a romantic and stylish era. Of course, there was no shortage of gin either.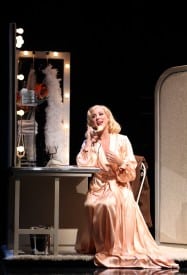 The rest of the cast is equally strong. Christianne Tisdale is a hoot as Ethel Merman, the rough-and-tumble star who sings a hilarious number with some cowboys and Ginger, the up-and-comer.
Heather Lee as Ginger's mother Lela captures the magic of her daughter's rise to fame without over-the-top sentimentality.
Benjie Randall and James Patterson are also strong in a number of supporting roles including Bill McMath, George Shaffer, Jack Pulpepper, Hermes Pan and Jimmy Stewart.
A simple black set (Walt Spangler) with surrounding studio lighting rigs helps our imagination soar. A long (very long!) chrome bevelled countertop slides in, and later the stage is awash in gold and sequins, "We're in the Money."
Costumes (Alejo Vietti) are also top notch as is the lighting (Grant Yeager) which casts clever shadows, notably during the numbers involving Astaire and Roger.
Props also to the band (Tim Robertson, Russ Gold, Michael Corner, Andrew Currier, Robin Snyder) and musical director Tim Robertson whose lush sound give the evening punch. In fact, I was pleasantly surprised at the quality and tone that the theater was able to channel.
During intermission as I stood in line for a coffee (ok, yes and a cookie again) I asked a couple of women behind me ,who were energetically discussing the first act, what they thought of the show. The voices are terrific one told me, really powerful! Then I asked them if Ether Merman was really like that — gruff and charming at the same time, and if Ginger was really that big a star. They responded emphatically: yes, and yes.
Chalk one up for women that are willful, head strong, and utterly uncontrollable.
Backwards in High Heels
San Jose Repertory Theatre
4 out of 5 stars
Conceived and Developed by Lynnette Barkley and Christopher McGovern
Directed by Scott Schwartz
Starring Anna Aimee White, Heather Lee, Christianne Tisdale, Matthew LaBanca, Benjie Randall, James Patterson
Choreographer: Patti Colombo
Music Director: Tim Robertson
Costume Designer: Alejo Vietti
Lighting Designer: Grant Yeager
Through Dec. 19, 2010