We're going green today. In this special Stark Insider TV segment we meet up with Eric Petersen in his dressing room at the Orpheum in San Francisco as he transforms into everyone's favorite swamp-loving Orge, Shrek himself for the musical adaptation of the famous franchise. Being a committed tech guy, I was fascinated by the technology and techniques the makeup artists and costume designers use to bring the famous DreamWorks animation to life.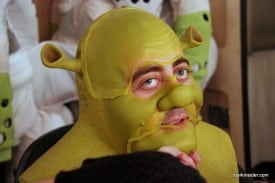 Those tiny warts on either side of the silicone cheeks? Tiny radio microphones used to capture Petersen's voice! He tells me that it's "like movie level makeup."
Who needs a big, bright, beautiful world?
All told, the costume weighs in around 45-pounds.
Imagine dancing and singing for over two hours every night. No wonder, Petersen tells us (during the outtakes at the end of the video) he likes Miller High Life ('the champagne of beers") and Taco Bell. He needs the calories!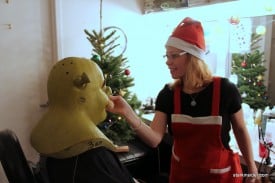 To keep his hands somewhat dry, there are multiple pairs of Shrek hands that are rotated during the show. A small dryer keeps the moisture levels in check, kind of like hockey gloves I thought when I saw the machine whirring away in Petersen's festive — this guy loves Christmas — and chaotic dressing room.
Born in Chicago and now based out of New York, actor Eric Petersen performed as the Shrek understudy on Broadway (along with co-star Haven Burton who plays Fiona). He's appeared in TV shows such as Law & Order, Law & Order: SVU and an upcoming NBC pilot with Jimmy Smits.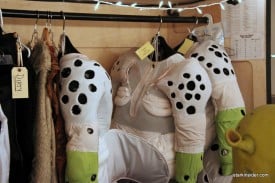 One of my favorite parts about this interview is that for a lot of it Eric either: (a) can't see; (b) can't talk; or (c) can't move.
Instead, at times, he'd clap his hands and try not to laugh when things were getting crazy. A new father, he shows us a photo of him and his four-and-a-half month old daughter on his iPhone. Dressed in full-on Shrek mode, he says that he's not sure she yet understands that Daddy is the green ogre.
This also marks another first for us: capturing Shrek on camera asking Loni, "Where's the best place in San Francisco to get sourdough bread?"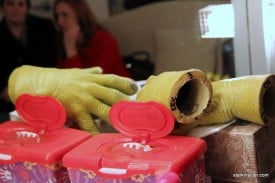 Less than an hour before another performance for a packed house at the Orpheum, I was impressed at how calm and focused everyone was, including the very talented makeup assistants Brandon Claflin and Jorie Mars Malan. Then again, these are pros, and we were just there to document an amazing transformation.
Loni tries to find out why Mike Myers gave Shrek that famous Scottish accent. Find out what Eric had to say about that.
And, need I mention that this is the first time that we've ever featured a fart in a video… in a musical no less, on stage, in front of thousands. This is the swamp, it's not Mary Poppins, but it is fun for the whole family.
"Cameraman Clint" signing off.