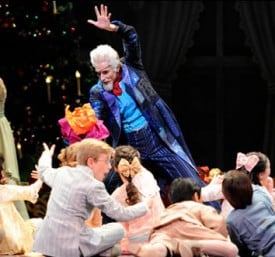 A crush of small girls tricked out in dresses more fabulous than even the promo photos popping up all over the Internet crowded the lobby of the War Memorial Opera House last night.  Heavily hyped at every turn, I'd wondered how the San Francisco Ballet Nutcracker could possibly compete with the shimmering confection created in their ads.  I should have heeded the advance buzz from the younger set because in many ways, this production exceeds its own hype.
Opening with a collage of projected black and white photos from the 1915 San Francisco World's Fair, set designer Michael Yeargan and projection designer Wendall K. Harrington succeeded in giving this production a uniquely San Francisco bent.  Photo after photo rooted us in a time and place very different from the Russian classic.  Slowly spinning out to show period shop windows, one after another, until focusing in on the Drosselmayer window… thus beginning the tale.
Damien Smith's Drosselmeyer was a fabulous character.  Unlike other Nutcrackers, he remained on stage in almost every scene, supplanting the prince's role as he guided Clara through this enchanted new world.  This worked well because his shock of white hair, elegant cape and blue coat provided a much-needed counterweight to this sugary confection.  Clara's prince paled in comparison to the Drosselmayer that showed Clara through cast of Spanish, Arabian, Chinese, French and Trepak dancers that people Clara's dream.  As age balanced youth and darker tones balanced pastels, ditching the prince was a brilliant move.
Another novelty that worked well was the reliance on male dancers in the Arabian dancer scene.  While this is usually occasion for sexy belly dancers, the audience was treated to harem-pants clad males, bringing a magic lantern on stage,  from which the female genie appeared.
What worked less well was the transformation of Clara into an adult.  Act II saw Drosselmayer transform Clara into an adult who danced with her prince.  I don't know if this worked well for kids, but as an adult, it tore at the heart of the story for me.  Clara's appeal is precisely because she has the dreams and yearnings of a child – once those are actualized, the story goes poof.
However, I'm no doubt over-thinking this.  In truth, the fabulous snow scene appearing in every bus stop in the city doesn't to justice to the fantastical scene at the end of Act I.  Snow fell so heavily that the dancers were lost in a whirl of snowflakes.  How the dancers ever managed en pointe in all the snow continues to mystify me. The porcine tumbling bear appearing with Madame Du Cirque was delightful beyond words.  Moreover, in making this a uniquely San Franciscan Nutcracker, we  fly from our pride in the Giants to our rapture with this production.  While the obvious local references were in Act I, they appeared subtly in Act II as well, with a set that seemed to hint of the Palace of Fine Arts, created especially for the 1915 World's Fair.
Since the Nutcracker is a season maker-or-breaker, often underwriting the balance of the ballet season for many companies, one wishes the SF Ballet well.  I look forward to Giselle in January, which with its madness and deception is in many ways the direct opposite of the Nutcracker.