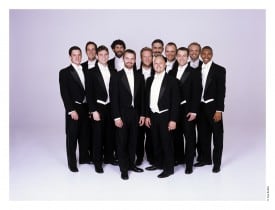 With its Romanesque basilica, St. Ignatius is a lovely place to hear music, especially Christmas music. The advent wreath suspended from the ceiling, and pine-swagged columns exude a sense of warmth and anticipation.  It is fitting that this venue is where Chanticleer homes every year for Christmas.  As band members noted on the group's blog, "this Christmas concert has been going on since before all of us (even Eric).  It's good to be home in the space for which the concert program is always conceived." While Chanticleer is stunning regardless where you catch them, St. Ignatius always caps the season.
Last night's concert began when the nave and the altar were plunged into total darkness.  It's stunning how dark it can be, especially stormy night.  Six individual candles appeared on the altar and another six at the back of the nave as the group opened  with an anonymous plainsong and transitioned seamlessly to Jean Mouton's Ave Maria Virgo Serena before the lights came on, leaving the audience blinking, stunned at what they had heard.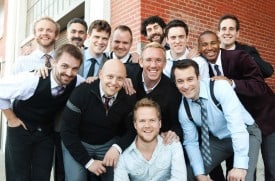 Combining the French words chanter ("to sing") and clair ("clear"), the name "Chanticleer" comes from the "clear singing" rooster that appears in Chaucer's The Nun's Priest's Tale.  However, to claim that Chanticleer sings clearly is like saying that Blake wrote poems or that the Sistine Chapel ceiling is painted.  One appreciates their music the same way that one appreciates the meditative quality of mandala, which was much the spirit in which these early selections were written. The clarity of voice and impeccable harmonies transcend any particular text as syllables are deconstructed and put back together.  While I have absolutely no doubt that they could do the same with ditty about driving to work in the morning, interweaving syllables so intricately and sweetly that they lose all meaning, this is best done with those original texts and specially works that Chanticleer commissions.
The latter half of the concert was devoted to more recent works, including Gustav Holt's In the Bleak Midwinter and The Boar's Head Carol. While I've heard these recordings hundreds of time, the live experience is better than any recording could possibly proffer.  Untouched by engineering, this is how these guys really sound.  This got even better  when the group began their circumnavigation of the nave, reaching out to people in the side seats and rear before coming to center under the suspended altar wreath.   The evening ended all too soon with an upbeat selection of gospel standards including What Month was Jesus Born In? and Go Tell it on the Mountain.
The stunning popularity of Chanticleer gives me hope that our senses have not become entirely jaded.  A Chanticleer Christmas just hit #1 on the Billboard charts and then continue to win Grammy after Grammy – all a testament that excellent popular music hasn't gone the way of the proverbial dodo.