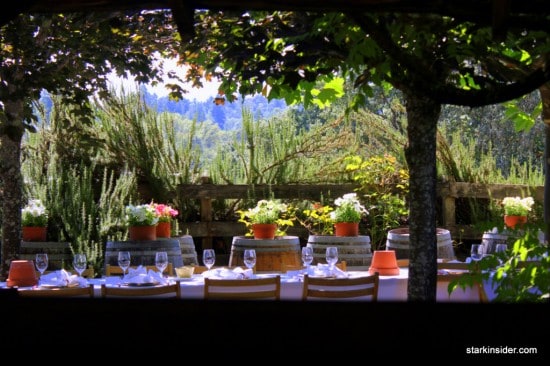 Wondering how to celebrate the arrival of the New Year? Think bubbles! The liquid sunshine in a bottle known as champagne or sparkling wine.
These past cloudy and windy days in the SF Bay Area has me curled up in the family room thinking about my sunny morning visit out to Iron Horse Vineyards.
Luminous rays streamed down, through the large trees towering above and dappled gold flecks along the path down to the early afternoon picnic at the winery famous for its sparkling wines that have been the toast of the White House since the historic Reagan-Gorbachev Summit Meetings. Rumor has it, Iron Horse sparkling wines even ended the Cold War. I can't verify this, but it is hard to feel grumpy while sharing some bubbles.
Earlier, while driving to Iron Horse Vineyards in Sonoma County, I imagined how winery founders Audrey and Barry Sterling may have felt the first time they discovered the 300 acres of rolling hills which would later be transformed into vineyards in 1976. After driving down a secluded dirt road which seemed far from civilization, I was certain I had made a wrong turn and was lost. Just as I was about to turn back in disappointment, a simple Iron Horse sign reassured that indeed we were headed in the right direction.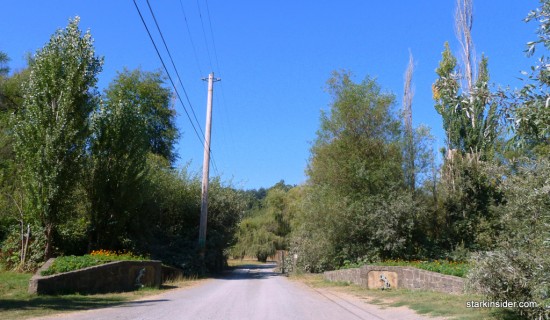 I have visited numerous Napa and Sonoma wineries over the years and Iron Horse Vineyards may well have the most low key entrance. It made me feel like I was about to discover something unknown and very special.
I had a similar experience while walking down a winding path from the tasting room to the picnic brunch area. This time though, it was Joy Sterling, proprietor of Iron Horse Vineyards, herself who greeted me at the fork in the road to welcome us to her winery and to affirm that turning right down a winding track would eventually bear fruits of delicious sparkling wines, good food and cheer.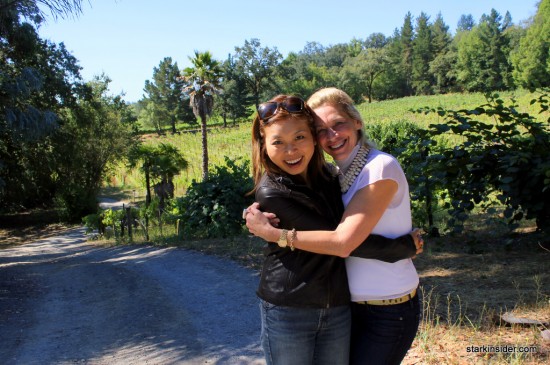 We spent a few moments talking about her family's winery. In an industry where more and more wineries are being purchased by large corporations, Iron Horse Vineyards is very much a family passion. Joy, CEO of the winery, has a home at the foot of the vineyard and lives at the foot of the vineyard and Audrey and Barry, her parents and original founders, still live at the heart of the estate in a home built in 1876. Besides growing grapes for their Iron Horse brand, Barry still has a family garden where he likes to grow peaches, berries and other fruits.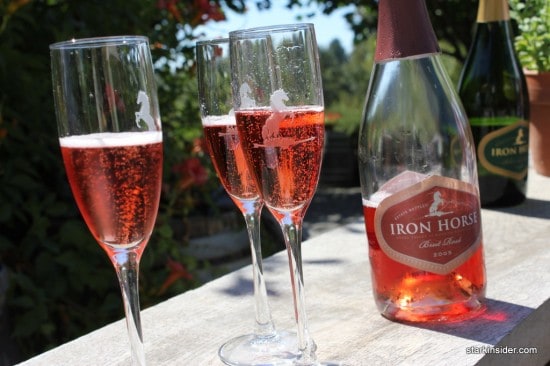 When I arrived at the picnic area, I was greeted with some pink bubbly, Iron Horse Brut Rosé 2005 ($50) which had been nicely chilled. Normally, I am not a fan of Rosé because they tend to be a little soda pop sweet. This Iron Horse Brut Rosé 2005 was refreshingly dry and a celebratory way to kick off Sunday brunch.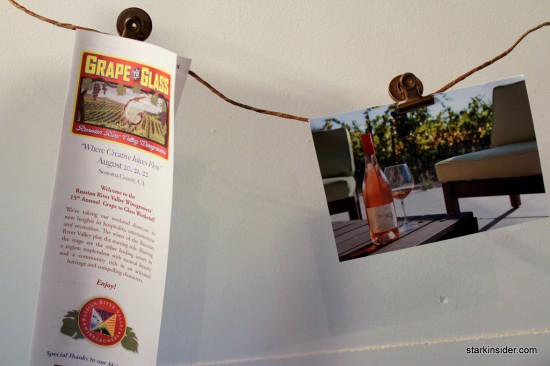 Before brunch, I popped my head into a small room to admire the winners of the Grape to Glass photo contest and taste some of Iron Horse's other sparkling wine selections including their 2006 Wedding Cuvée ($38) and one of my favorites of the day, 2005 Ultra Brut ($50).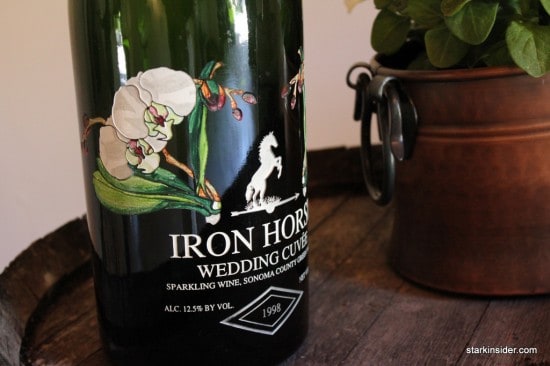 Brunch started off with an announcement by Joy Sterling on the partnership with National Geographic to create a special edition Sparkling Wine whose net proceeds would benefit ocean conservation. This wine, 2005 Ocean Reserve, is now available from Iron Horse Vineyards' website. Only 1,000 cases were produced.
Later during brunch, I asked Joy how the partnership with National Geographic started. Joy smiled and said it all started as dinner conversation. It was the 75th birthday gala of Gilbert Grosvenor ("Gils" as Joy calls him), Chairman of the Board of Trustees of the National Geographic Society. Audrey Sterling (Joy's mother and co-founder of Iron Horse), who happens to have the same birthday as Gils, sat next to Gilbert and the started talking about doing something for the environment. Four years later, Iron Horse Ocean Reserve was born.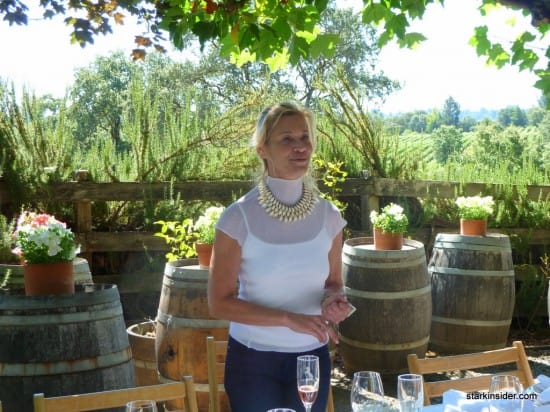 Joy laughs and recalls when they started to seriously discuss this partnership, the IT people from National Geographic called her up to make sure the Iron Horse website will be able to handle the surge in traffic once the announcement went live.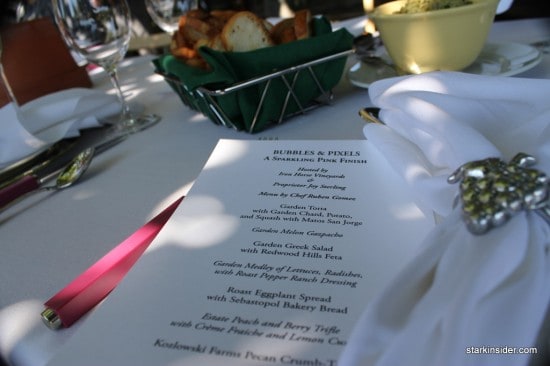 Just like the vineyard is a family affair, so was this late Sunday morning brunch. Barry Sterling joined us just a little after brunch started. He sat right across from me and all of a sudden, I was engrossed in conversation on how Iron Horse Vineyards started.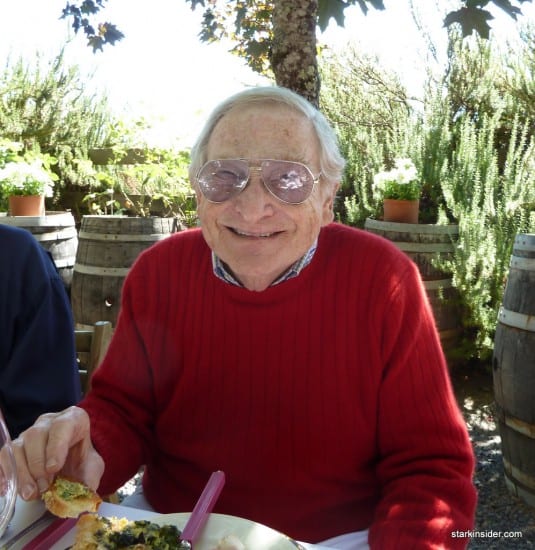 Barry had founded a corporate law firm in Los Angeles after his career in the military. However, in 1966, he was approached with an opportunity he could not refuse. To join the law firm Wyman, Bautzer, Rothman, Kuchel & Silbert and practice in Paris, a city he fell in love with on a previous visit. This was the start of his serious wine collection. He and Audrey lived in an old-fashioned apartment in Paris and had room under street for 15,000 bottles of wine and he started to fill the space starting with the 200 bottles he had transported from Los Angeles.
As he learned more about wine, he was inspired to by a vineyard in Bordeaux. He had several criteria as he went on a hunt for the perfect vineyard. It obviously had to produce grapes that had the potential to create fine wines, there had to be a house on the property, and it had to have great views.
Barry thought he had found the perfect vineyard that was owned by a tough old lady with a pet dog which she had stuffed after it passed away. Unfortunately, there were legal complications regarding wine production limits with the land which the authorities were not going to bother the old lady with as she had lived in the town forever. However, Barry fathomed should a new owner, such as himself, were to purchase the land, these legal matters would be reviewed and enforced.
Finally, Barry decided to walk away from this dream. About the same time, his daughter Joy was accepted to Yale and so the entire family decided to move back to the US. The rest, including the rise of his winery to becoming a beacon of American fine wines, is Iron Horse Vineyards history.
My favorite Iron Horse Sparkling Wines tasted include:

2005 Blanc de Blancs ($40)
2005 Brut Rosé ($50)
2005 Ultra Brut ($50)
2002 Brut LD ($85)
Joy! ($169)