Palo Alto Players announced today it will continue its 2010-2011 season with critically acclaimed and award-winning writer William Nicholson's play Shadowlands. Shadowlands opens January 22, 2011 at the Lucie Stern Theater in Palo Alto, with a paid preview on January 21, 2011.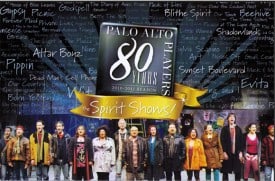 In the 1950's, C.S. Lewis, the Oxford professor and creator of Narnia, met American poet Joy Gresham. He was reserved – a content bachelor in his fifties. She was outspoken – a divorcee 17 year his junior. Their friendship developed into an unlikely but deep and abiding love – one which upended Lewis' convictions about God and His plan for the world and revealed a vital truth: a heart awakened to great love is also a heart made vulnerable.
William Nicholson joined the British Broadcasting Company (BBC) shortly after college and soon found his passion to write. He starting writing novels, weaving tales of lost love, then he ventured into his first works; Life Story and Shadowlands, which would go on to win him countless awards both for television and stage. Shadowlands was first written as a television movie in 1985, and shortly afterwards was adapted to a stage play. On stage, Shadowlands first captivated audiences at London's Queen's Theatre "[bringing] tears to many an eye in 1989." With Nigel Hawthorne as C.S. Lewis, it went on to win the Evening Standard Award for best play followed by a Tony Award for Hawthorne and a nomination for Nicholson when it transferred to Broadway in 1990.
C.S. Lewis, apart from being an accomplished educator at both Oxford and Colombia University, was predominantly known for his "Chronicles of Narnia" Series of children's books. These seven books have been sold in over forty-seven countries selling over one hundred million copies, and play upon the "Magic" of literature, children's imagination, and numerous traditional Christian themes. His books have been in continuous publication since 1950, and have gone on to numerous forms of art and media. Including the current top box office film, "The Chronicles of Narnia: The Dawn Treader." Shadowlands ties itself directly to Lewis' "The Magician's Nephew" the sixth book written in the "Narnia" series. "The Magician's Nephew" tells the story of the creation of Narnia, the construction of the Wardrobe later used as an entry into the magical world, and a boy's wish to heal his dying mother.
Palo Alto Players' production of Shadowlands brings this beautiful true story to life with an all new cast and amazing local talent. Marilyn Langbehn returns to Palo Alto Players after her wildly successful show last season of Rabbit Hole. "I saw the original production in London more than twenty years ago," says Langbehn, "and fell in love with it then. I was especially mesmerized by the rich relationship between two people who never expected to find real love once their youths were gone, and were able to celebrate the short time they had together with humor and maturity." When asked what she felt was her biggest challenge Langbehn states, "[it is] staying true to the author's intent while dealing with the expectation that we're doing a docu-drama of the lives of C.S. Lewis and Joy Davidman Gresham." "It is my hope that the audiences will see and recognize some part of themselves and their experience reflected on the stage. Theatre is one of the best ways I know to make sense of our lives; even if the story isn't directly analogous to our own particular situation, it has the capacity to reveal deeper truths about how we respond to each other and the world around us."
The Palo Alto Players cast of Shadowlands is as follows:
C.S. Lewis – Fred Sharkey (San Jose)
Joy Gresham – Trish Tillman (Oakland)
Major Warnie Lewis – John Nolan (Mill Valley)
Christopher Riley – Michael Fay (San Francisco)
Harry Harrington – Kyle Green (Castro Valley)
Douglas – Nathan Kaplan (Redwood City) or Ryan Kain (San Carlos)
Alan Gregg/Doctor – James Darbyshire (San Francisco)
Registrar/Nurse – Sarah Kishler (Mountain View)
Priest/Waiter/Dr. Maurice Oakley/Clerk – David Iverson (Menlo Park)
Technical director, production manager, and scenic designer Patrick Klein will be working in cooperation with resident costumer Mary Cravens and prop master Pat Tyler to bring the magic and beauty of Nicholson's work to life. SHADOWLANDS will also feature Carolyn Foot as the lighting designer, and Jeff Grafton as stage manager for the production. The production will also feature the make-up artistry of Kate Ferrant Richbourg with hair and wig design by Rande Harris.
Shadowlands

January 22 through February 6, 2011.

There is a paid preview performance on Friday, January 21, 2011.

The curtain lifts at 8:00pm Thursday through Saturday and 2:30pm on Sundays.

Ticket prices are $21 for the Friday preview performance; $30 for Thursday, Friday and Saturday evenings and Sunday matinees; and $32 for Opening Saturday Gala on January 22, 2011.

Following the opening night performance, the audience is invited to join the cast and crew for a gala reception with complimentary wine and desserts.

Shadowlands is the third production in Palo Alto Players' 80th season entitled "The Spirit Shows". Palo Alto Players 80th season continues in April with Altar Boyz the energetic, foot-stomping, rafter-raising, sidesplitting, award-winning musical comedy about a fictitious Catholic boy-band on the last night of their ―Raise the Praise‖ tour. The season concludes with a spirited revival of Noel Coward's classic comedy Blithe Spirit.