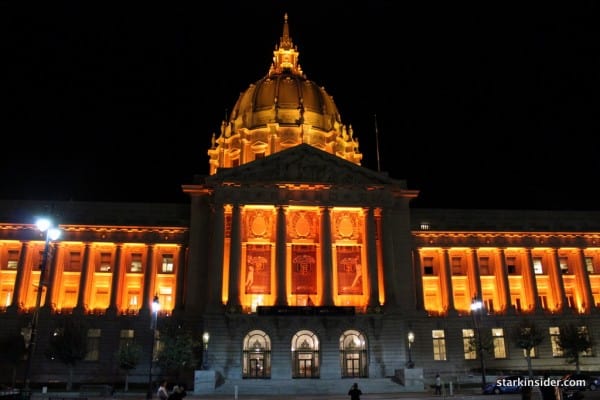 San Francisco City Hall is sporting some fashionable Orange. Not to be confused with pumpkin orange, all of a sudden beautiful sights around town have a championship glow about them. Some 54 years in the making (well, recall that was actually New York, not San Francisco that celebrated the Giants' last World Series win), if you're cruising near Goodlett Place, you might want to stop to soak in the awe-inspiring sites.
I like to call it Victory Orange. I know, not exactly original. Maybe you can do better. But in a city that already famously showcases International Orange (GG Bridge) a partnership with Victory only seems natural.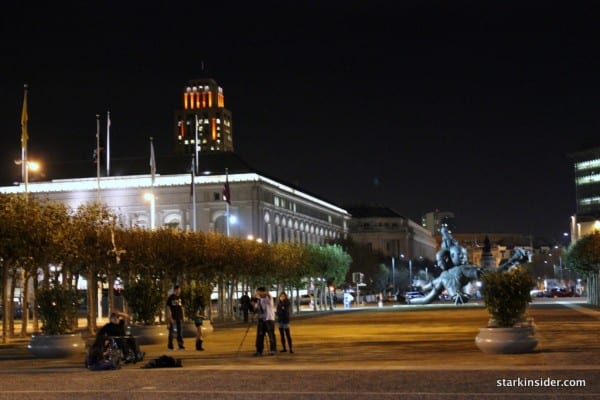 These photos were taken last night after I covered the grand opening of Holly's Comedy Club on Van Ness. With headliner David Crowe killing, it was just about as good a launch as you could hope for (more on that over the weekend on Stark Insider).
As we headed across down, serendipity had us pass the always majestic City Hall.
I popped out of the car with trusty Canon T2i in hand and took the shots you see here. Yes, I needed a wide angle lens. But alas, all I had was kit (the stock 18-55mm lens). I wasn't alone in admiring the Orange glow. Several photographers were stationed across the street with tripods, no doubt on timers for some spectacular evening shots.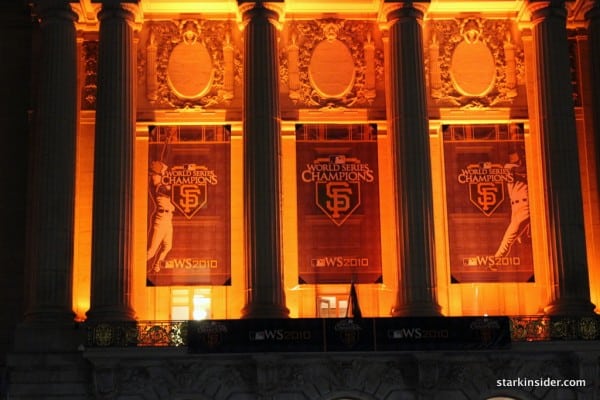 There's a lot to celebrate aside from the victory itself, as fans, players, and the city bask in the tremendous accomplishment.
One of my favorite themes is the class and approachability of the Giants' players themselves. Seen wandering the SF city streets, enjoying Sushi and chatting with fans, players are demonstrating championship form also off the field. Well done.