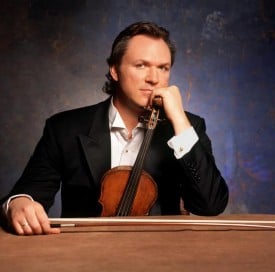 In a recent conversation with composer and Stanford lecturer Erik Ulman, Ulman observed that "the Goldberg Variations are perhaps the greatest of all variation cycles, building a whole universe from its modest theme."  His remarks had me digging out my Glenn Gould version and plunking away at the simple 32 bars that Ulman refers to as the modest theme of this piece.  While it rapidly became apparent that the inter- and intrarelationships between the aria and its thirty variations were more complex than I could do more than scratch the surface of, I was also reasonably assured that I was prepared for the New Century Chamber Orchestra's performance last night.
Once again, I was way, way wrong.  As usual, Nadia Salerno-Sonnenberg was full of surprises.  There's nothing in the Glenn Gould version – and probably any other version – that could have prepared me for what these variations were like in the hands of the chamber orchestra and this 1984 arrangement by Dmetry Sitkovetsky.  The end result was as if Bach had indulged in whatever red-hot psychedelic  circulated around Eisenach.
As anticipated, the original aria is spare, tentative, taking time to establish itself and become rooted in the listener's memory.  However, the scale of the contrasts after this aria is astounding.  By the time she reaches the third variation, Salero-Sonnenberg plays with lightning speed, throwing off bits that the cello echoes back.  Delusions of following this piece were rapidly abandoned; instead of following, one struggles to keep up.
The second half of the concert was focused upon composer and guest violinist Mark O'Connor. A two-time Grammy winner, O'Connor crosses all manner of boundaries and genres, in much the same way as Edgar Meyer, with whom he collaborated on his second Grammy work and who also appeared with New Century earlier this year.  Last night, O'Connor  performed three works: Song of the Liberty Bell (1996), Strings and Threads Suite (1986) and Appalachian Waltz (1993).  Each of these resonated deeply with melodies both uniquely American and eminently universal. The evening ended with a rapid fire  reel between O'Connor and Salerno-Sonnenberg, each performing a musical version of the dozens as they tried to outdo each other.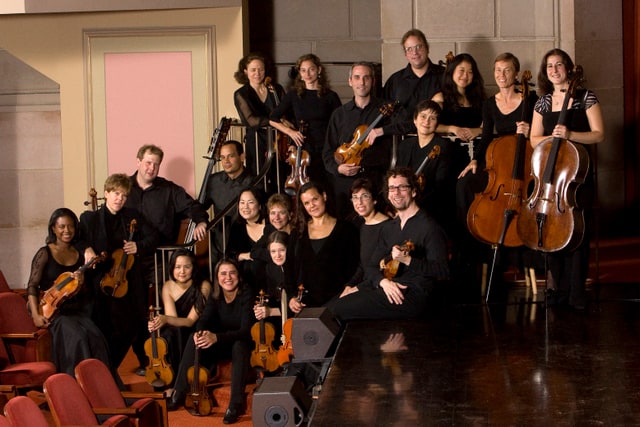 As the night ended and I wandered into the deliciously rainy evening, I was most grateful that we continue to have these kind of musical discussions.  Pairing the Goldberg Variations with the 13 pieces that make up the Strings and Threads Suite was a brilliant decision because each hangs together so tightly with its own king of structural integrity.  While purists no doubt squawk, it was important to hear a non-traditional set of Goldberg variations because this is how we can continue the conversation .  Likewise, persistently introducing modern composers allows us to have new discussions about these important new works.  I'm grateful to New Century for making this possible and bringing together such astonishing guests.