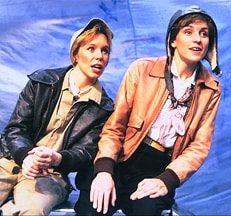 I confess, I felt tall, towering over the seven, eight, and nine year old girls waiting in line to see Amelia Earhart, Flights of Fancy.  Moreover, I was never interested in dear Amelia, co-opted by feminists, just as she had been by opportunists in her own time.  Growing up in New Jersey, my limited aeronautic history was all about the 1937 crash of the Hindenburg in Lakehurst, which amazingly, folks were still talking about when I was in grade school in the 1960's.  In short, I had a lot to learn.
The California Theatre Center has been putting on plays for kids for 35 years.  While I come from a "for-kids-by-kids," theatre environment, there is a place for this type of professional theatre for kids on the peninsula. We're incredibly rich here, having the option to schlep our kids to decent theatrical productions at 11:00 on a Saturday morning.   I still remember how this group charmed my 7-year old guest, who I brought to see for his very first professional production of "You're a Good Man Charlie Brown" back in 2004.  Being accompanied by a young gentleman of impeccably good taste, we both had a blast, both at the play and pretending we were Lucy when we went out to eat afterwards, an event at which the waiter earned every penny of his tip.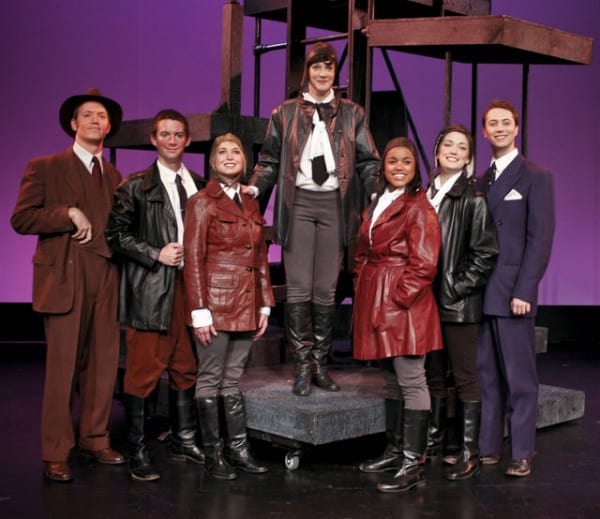 However, I digress… Speaking strictly as an adult, I learned a lot of Amelia and was in tears at the play's end.  I could be hypercritical about the acting, but that is so beside the point.  More important than whatever the critic in my head is harping about, is what really worked for this play.  The set was a source of great curiosity, not entirely unlike the machine at the center of the planetarium of the Academy of Science in San Francisco: a bizarre hulking mass that twists and turns as it causes reality to morph into new things.  Moreover, the inventive costuming was spot on.  I want to go to my next board meeting, tricked out as Amelia Earhart, or better yet, as the mustachioed French cameraman.
More striking than even the cast, crew and their magic was the audience response.  Halfway through my attention wavered so I started watching my young seatmate, who leaned forward, entirely wrapped up in the play.  It seemed that the rest of the audience caught the Amelia bug.  The spell worked by the cast and crew would be the envy of Ritalin-prescribing docs as these girls were rapt in attention.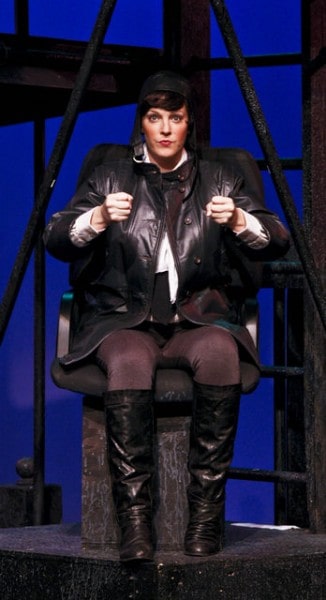 Afterwards, I thought of grabbing a quick quote from the actors, who were mobbed by children in the lobby, but didn't want to interfere with the hordes of young girls mobbing the actors.  This is what theatre is all about: working magic to capture hearts and minds.  On that level, the California Theatre Center succeeds splendidly.
Photos by Marcia Lepler.