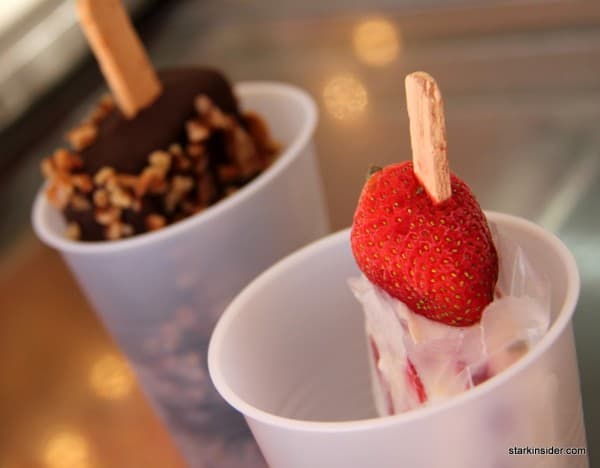 I've written several articles about my affections for this little Popsicle and ice cream shop in Loreto, Baja California called La Michoacana. We even have a video with our friend Orlando showing us around the store (this is a Stark Insider classic video).
This visit, we were finally able to drop in again for my favorite popsicle flavor, strawberries and cream.
Admittedly, I have not tried any of the other flavors. Each time I visit, I play it safe, lest I choose a flavor I love much less than my tried and true, strawberries and cream.
Clint this time decided to venture from his favorite chocolate chip ice cream for a nut-covered, chocolate dipped Popsicle creation. He enjoyed it, but he did comment he would go back to ordering his chocolate chip ice cream.
Sometimes you make new discoveries. Other times, you realize how good you already have it.
We saw Orlando again on this trip, but he is now at La Capital restaurant beside La Michoacana. He had mentioned opening the new restaurant in our previous visit. We have yet to try this restaurant. I have heard the food there is really good and when you are done, you can pop next door for your favorite popsicle or scoop of ice cream.