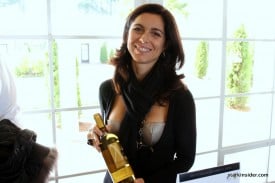 Five Sicilian wineries — Paolini, Cantine Russo, Fazio, Maggiovini and Nicosia — made their U.S. debut last week in San Francisco. Once again I was reminded that the Italians are not only passionate, but also mighty fine dressers. Oh, and the wines weren't too bad either. The tasting took place at one the regions favorite spots for these sorts of events: the Golden Gate Club at the Presidio.
Maybe it's just me, but every time I make my away across the grounds of the former military base, I always feel like I'm either on the set for The Rock or have stumbled upon a long forgotten world. There's neat rows of buildings, expansive Pacific views, and … school children in uniform? Of course I needn't be dull about it, since 1994 the Presidio has been operated by the National Parks Service and now houses many services, art installations and, of course, the 15 acre ILM and LucasArts HQ.
But, this day was all about the wine.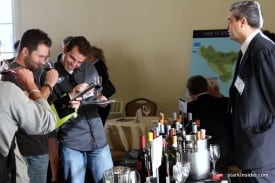 Organizers referred to it as a "cafe-style" tasting that would provide a "passport to the undiscovered world of fine Sicilian wines." To be frank, these aren't my favorite times to truly taste wine; there's usually too much commotion, not enough space to sprawl, and too much noise. I need to hear the wine, you know — talking to me, whispering sweet tannins in my ear. Yeah, that sort of thing. Plus, sometimes I just like to run a victory lap or two around our kitchen island after enjoying a particularly sophisticated red. To each their own.
The five wineries pouring their hearts out included: Paolini, Cantine Russo, Fazio, Maggiovini and Nicosia.
Adjacent to the expansive space used for larger events (such as the Taste of Mendocino), the cozy room featured standard tables around the perimeter with a gourmet spread in the center. Servers were elegantly attentive.
You know an event is authentic when interpreters are required. It's one of my favorite parts of these international-flavored events; communication is mostly via the wine, and how appropriate is that? My knowledge of the Italian language is as basic as my knowledge of Sicilian wine: Buon giorno! Ciao! Or distant memories of music class: Finissimo, Allegro! Grandioso! I prefer to use the language of Ferrari, as in this Nero is like a nicely restored GT. Oh, Shiraz IGT – too garish, like an '88 Testarossa.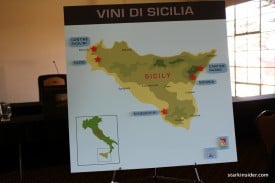 Despite the fact there were only five wineries on hand, over 36 wines combined awaited the journalists and trades professionals that chewed, spit, and chit-chatted their way. Maggiovini, from southern Sicily, alone was pouring 14 wines. Who do they think they are? Artesa?
Overall, I thought the wines were decent. It's a matter of style, and as I've said before I do lean towards the Napa signature bold Cabs; I'd say the Nero is closest in that regard. These immediately taste "different" – obviously. You know that there is something unique happening in terms of terroir, wine production techniques, and philosophy.
My favorites:
From Paolini, White Wine Grillo Gurg IGT Sicilia 2009 – distinctive indeed; not like Chardonnay but not herbal either like a Sauv. Blanc. Nice fruit on the nose – peachy. But strong. Not sure this is for everyone, but I like tannins, strong espresso (with no sugar) and peppers straight-up. Like a lot of the wines here, it's not available anywhere but New York. They're currently seeking San Francisco distribution for this as well as their Nero and Inzolia. Production: 1,000,000 bottles (83,000 cases for us Americans).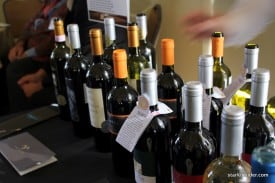 From Fazio, located in the northwest tip of Sicily, comes this Muller Thurgau IGT Sicily 2009. Another white; like a classy Riesling is how I'd describe it, or think Ferrari 550. I asked owner Lilly Fazio to pour her best wine, the one she most often recommends, and this is what she poured me. Then she took off her jacket and struck a red-carpet pose with her wine. I think she should've stuck around for the Mill Valley Film Festival. This might be a winery to visit on your next Italian sojourn: "… it is possible to admire hills planted with vines that slope gently down to the coast studded with the wind-mills of the ancient salt-works, the golden beaches of San Vito lo Capo, with the Egadi Islands silhouetted against a turquoise sea." What Tuscan sun? Production: 750,000 bottles (62,500).
Finally, of the reds I liked the Maggiovini. Next time remind me to bring an assistant — or at least an iPad — to help make sense of the array of bottles and varietals they had overflowing on their table. Their 2007 Nero D'Avola was smooth, but certainly not lacking for heft, and had a nice finish with hints of dark berries and a bit of tobacco/leather which I truly enjoy — that and "earthiness" are almost always good qualities in my books. Showy for sure: an Enzo. Production: 200,000 bottles (16,600).