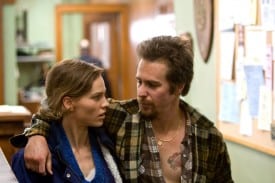 The 33rd Mill Valley Film Festival opens tomorrow (Thu Oct 7) with two strong pictures based on true stories. Conviction, starring Hilary Swank and Sam Rockwell, is the heroic true story of Betty Anne Waters, a high school dropout who transformed herself to try to save her brother from a life in prison. The King's Speech, starring Colin Firth and Geoffrey Rush, tells the story of an inveterate stutterer, King George VI, and his unconventional speech therapist. The film has been receiving early Oscar buzz; you can read Clint's early take and a MVFF preview here.
MVFF runs for 10 days from October 7 – 17 at the CinéArts@Sequoia (25 Throckmorton Avenue, Mill Valley), Christopher B. Smith Rafael Film Center (1118 Fourth Street, San Rafael) and other venues throughout the Bay Area. Tickets are $12.50 (CFI Members, $10) unless otherwise noted and may be purchased online at mvff.com. For additional information, please visit mvff.com or call 877.874.MVFF.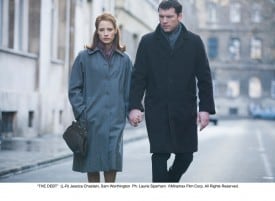 "For the last 33 years, the California Film Institute's Mill Valley Film Festival has made San Francisco and the Bay Area a destination for tourists, film enthusiasts, and filmmakers from all over the world to celebrate outstanding cinema. As a result, Bay Area residents are able to enjoy this world-renowned festival, which highlights our region's film talent and includes the Children's FilmFest in support of San Francisco's schools." – Mayor Gavin Newsom, City of San Francisco.
Closing Night at the Festival will feature a special screening of the U.S. premiere THE DEBT starring Jessica Chastain, who is expected to be in attendance. Helen Mirren (MVFF Tribute 2006) and Sam Worthington also star in this fast-moving, knock-your-socks-off ensemble thriller. After the film, the Closing Night festivities will take place at Kerner Optical, which was the former home of George Lucas' Industrial Light and Magic complete with music by Califone.
2010 Mill Valley Film Festival – PREMIERES LIST

World
Atomic Mom
Child of Giants: My Journey with Maynard Dixon & Dorothea Lange
Cut Poison Burn
Food Stamped
Lesson Plan: The Story of the Third Wave
MOST VALUABLE PLAYERS
Niger '66, A Peace Corps Diary
Opal
Sand
Space, Land and Time: Underground Adventures with Ant Farm
To Educate a Girl
TRUST: Second Acts in Young Lives

North American
Dumas
From a Whisper
The Indian
Julia's Disappearance
Mr. Bjarnfredarson
Sebbe
Twigson

US
The Child Prodigy
The Debt
Estigmas
The King's Speech
Leave Them Laughing
Love Crime
Made in Dagenham
Miral
The Most Important Thing in Life Is Not Being Dead
Queen of Hearts
Tehran Tehran
Themba – A Boy Called Hope