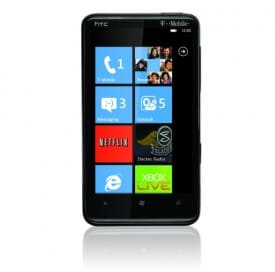 Can Microsoft finally make inroads in the mobile market, now dominated by RIM, Apple and — increasingly — Google? Relying on a totally revamped operating system called Windows Phone 7, the Redmond giant announced the first wave of handsets that will be available to consumers by year end.
Dell, HTC, LG and Samsung are manufacturing phones for approximately 60 mobile operators across the world. AT&T and T-Mobile will sell handsets running Windows Phone 7 on November 8 in the U.S. Verizon and Sprint models will not be introduced until 2011.
"We've built a different kind of phone," said Microsoft CEO Steve Ballmer. "Everybody should be able to look at a Windows Phone and say, 'I can represent me in this phone.'"
Starting at $199 with two-year contract, features include: WVGA displays (480 x 800 pixels), Qualcomm Snapdragon processors and integration with XBOX Live. The user interface will use "Live Tiles," small squares updated in real-time that feature user-content, social feeds, news, weather, and more.
In a hands-on with the HTC HD7 (T-Mobile), one of the phones running Microsoft's new OS, PC World wrote: "I was pleased, however, with how fast the HD7 was. Windows Mobile has a bad reputation for being sluggish and heavy, but Windows Phone 7 felt light and speedy. Applications opened promptly and menus scrolled quickly and smoothly."
Wired magazine wrote, "It's a very beautiful OS, and I think some people will find its working clean and intuitive right away."
The big question: is it too little too late?
Gartner predicts the new line-up will help Microsoft grow about 1% in the ultra-competitive mobile space, bringing their share to just over 5% in 2011.
And, perhaps most important of all, will Angry Birds be available on Windows Phone 7?