Fosse, Fosse, Fosse… Will we ever get over him? And why would we possibly want to? How did one name become so synonymous with a quality of movement? Having grown up where learning to do the turned-in knees and perfectly articulated elbows was almost a rite of passage, I was overjoyed when my ten year old son came home doing "Fosse fingers." The one problem with Fosse, however, is it gets pretty darn stale if not executed perfectly (including casting of all the perfectly imperfect fleshy bodies).
That was most certainly not the case last night.
I confess, I was more than a little edgy while waiting to see if the Hillbarn Theatre could pull off their opening of Chicago, which seemed impossibly ambitious for a small community theatre. During those first two minutes, my hypercritical mind was in full gear. How could the small, triangular Hillbarn stage possibly be adequate for the complex blocking and choreography of All that Jazz? As more and more bodies entered the stage, the ante got upped.
My worries were misplaced, however.
Carrie Madsen delivered a sinuous, sexy performance. Her lithe, deliberately-paced opening depended entirely on the strength of the ensemble – whose flawless execution of some very complex blocking carried the evening.
Will Giammona's performance as attorney Billy Flynn merits additional comment. Beginning with his strong vocals in "All I Care About," Giammona just kept delivering. It's tempting to make this character unlikable – which director Nancy Fitzgerald-Metzler was smart enough to avoid. In keeping him a very plausible, dangerously likable character, the director also allowed him to romance the audience (and vice versa). One becomes entranced by his manipulations – and his client's contributions thereto.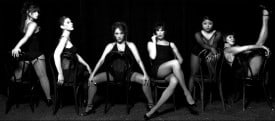 Interactions between Velma Kelly and Roxie Hart (Alicia Teeter) provided the tension to propel the latter half of the first act and beginning of the second act forward. While the character of Roxie Hart is, by necessity, two-dimensional, the character is redeemed by Alicia's Teeter's flawless performance.
Congratulations to Hillbarn on their 70th anniversary. Their production of Chicago makes one re-think any assumptions one has about community theatre. I look forward to the catching more of their season.
Chicago
Hillbarn Theatre, Foster City
3 out of 5 stars
Book by Fred Ebb and Bob Fosse
Music by John Kander. Lyrics by Fred Ebb.
Based on the play by Maurine Dallas Watkins
Directed by Nancy Fitzgerald-Metzler

CHICAGO CAST

VELMA KELLY … Carrie Madsen*
ROXIE HART … Alicia Teeter
BILLY FLYNN … Will Giammona
AMOS HART … Michael Carey
MAMA MORTON … Raegena Raymond
MARY SUNSHINE … Robin Fife
ANNIE … Clarissa Chun
HUNYAK … Angela Nuttman
LIZ … Damaris Divito
JUNE … Cheryl Ringman
MONA … Beth Ann Wells
SGT. FOGARTY … Doug Stoveland
GO-TO-HELL-KITTY …Glenna Murillo

ENSEMBLE
James Appleby
Marisa Bonahoom
Ryan Courtin
Lisa Cross
Erin Hewitt
Blake Kennedy
Catrina Manahan
Peter Shurmanns
David Zago