Who knew toilet water, Mona Lisa and Häagen-Dazs could make for a near perfect evening of theater? Opening the Center Rep's 44th season, She Loves Me proves the unimaginable combination irresistible. Perhaps it's Artistic Director Michael Butler who is striving to "Preserve a Romantic Atmosphere" as this version of the Broadway underdog piles on the charm, the laughs, in a high-spirited production that oozes quality. At times it event felt like I was watching a touring Broadway show, something you might see by SHN in San Francisco.
The story concerning two amorous pen pals who work at the same department store won't exactly engage our minds with deep, twisted Martin McDonagh-like sub-plots. Then again, that's not the point. We've seen this material many times before, including at least three times in film, the most recent being the serviceable You've Got Mail (1998) starring Tom Hanks. But if the goal is to entertain, and to bring on the "doey eyes" (as my wife and date for the night demonstrated on multiple occasions) then this is the ticket.
Set in 1930s Hungary (yes, I know: typical), Maraczhek's parfumerie serves as the department store for love; other than conditions of the heart, it serves up musical cigar–or candy–boxes, toilet water, and Mona Lisa cream.
Look! Autumn!
Managed by the aging, but feisty owner (played by Richard Farrell) who reminisces in "Days Gone By," shoppers are treated to personable customer service, always with a catchy thank-you tune upon departure. Sales clerks (Noel Anthony, Jackson Davis, Ryan Drummond) jockey for customers. The economy is tough and jobs are in scarce supply. Soon a peppy Amalia Balash (Kelsey Venter) arrives and wins a job after selling the ever-impossible music box for "ten-and-six."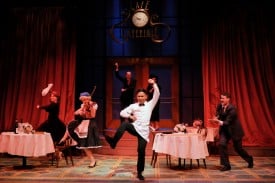 Three critical elements stand-out in this production: the casting, the singing, and the stage design. In combination, it's an impressive experience.
As the romantic lead, Ryan Drummond delivers just the right dollop of wit and swagger. When he first meets anonymous pen pal Amalia Balash (Kelsey Venter) at the Cafe Imperiale, he plays his dual identity with aplomb.
Look! Winter!
Jackson Davis, who I last saw in the cerebral Opus at TheatreWorks, is comic gold. A lovable coward, his advice in 5 words: Do not lose your job!
And Brittany Ogle shines in her recollection of a visit to the library, milking each literary revelation ("Suddenly, I can see the magic of books!") for a laugh. Legally Blonde seems to owe something here.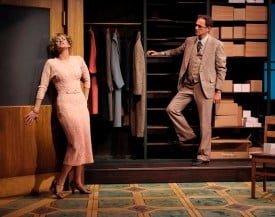 The musical pieces are swift enough to maintain a crisp pace. My favorites are the larger ensemble numbers. Thankfully, the "wrong crowd" was dining at the Cafe Imperiale on this evening, as the song ("Tango Tragique") and dance that ensued was inspired. Think Dancing With the Stars minus the celebrity comebacks. All the while, Evan Boomer as the particular waiter, dotes over restaurant patrons in a series of hysterical bits. Later, holiday shoppers storm Maraczek's with only 12… 10… 4 days to go before Christmas. It looked partly Gap commercial, with splashes of flamboyant color–wonderful costumes.
Scenic designer Annie Smart has a showcase here with a lavish set that sparkles. Alternating between store front and interior, there is a lot of detailing to admire–the color tones, soaring shelving, a large antique clock. Two majestic doors anchor the shop.
Not everything is perfect. The aforementioned storyline is straight and narrow. Act 2 slows a bit and we get the woe-is-me routines; necessary, but somewhat dull, especially given the stellar first half. While most of the singing is decent, a few times the actors fail to hit the higher notes.
I admit that the musical is not my favorite format; to make matters possibly worse, here's one written in the 1930's. Oh, no, this is going to be a drab rehash, I thought as we fought our way to Walnut Creek through a jam on 680 North. However, I was completely wrong. The dialog is surprisingly fresh and definitely sarcastic enough at times to tickle this theater-goer. In the end, Center Rep's She Loves Me proves that romance and the good-in-people never go out of style.
And the Häagen-Dazs?
Quite possibly my favorite intermission snack of all time–and it wasn't the least bit salty.
She Loves Me
Center REP Theatre
4 out of 5 stars
Book by Joe Masteroff
Music by Jerry Bock
Lyrics by Sheldon Harnick
Directed and Choreographed by Robert Barry Fleming
Music Direction by Brandon Adams
Through Oct. 10, 2010
Noteworthy

The original Broadway production (1963) was the first musical to be both produced and directed on Broadway by Harold Prince.
She Loves Me is based on a classic 1940s MGM film, The Shop Around the Corner, which was directed by Ernst Lubitsch and starred James Stewart and Margaret Sullavan.
This was my first show by Center Rep, and first time visiting the Margaret Lesher Theatre; What took me so long! I appreciate the $5 parking lot next door, as downtown Walnut Creek draws shoppers aplenty to its upscale shops.
Legendary newscaster Tom Brokaw visits the Lesher Speaker Series on January 10, 2011.
NEXT UP @ Center Rep: Dracula (Oct. 22 – Nov. 20), Becoming Britney (Oct. 28 – Nov. 14), A Chorus Line (Oct. 22 – Nov. 20).