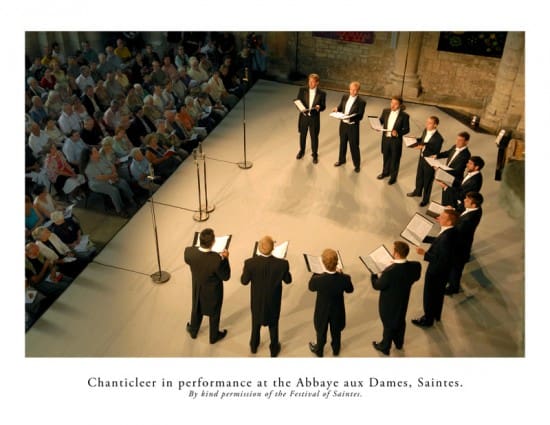 It's easy to get locked into thinking about the 16-man a cappella group Chanticleer as exclusively about Renaissance choral music with a sideline into some of the best Christmas music in the Bay Area. However, as last night's performance at Santa Clara Mission showed, nothing could be further from the truth. With a repertoire bridging seven centuries that touches everything from Gregorian chant, to the droning sounds of Aboriginal didgeridoo, to gospel, the only way to categorize them is simply the best. Their new season opened with an aptly named concert Out of this World. Chanticleer was obviously reaching for something else with that title, but it was a fitting description of their work.
Part of the Chanticleer's magic is their very accessibility. You don't have to like choral music to appreciate Chanticleer. You don't have to intellectually understand what is happening with their music. You don't have to understand the Latin or Italian or German or even appreciate the lyrical poetry. I've been slowly coming to the realization that a lot of very, very smart music (and I put Pink Martini in this category) shares this great accessibility. In the case of Chanticleer, all you need is a willingness to be stunned and amazed at what the human voice can do.
I will not pretend to have the technical vocabulary to describe the contrapuntal techniques and complex note-against-note polyphony – and I'm not sure this would begin to go justice to this music. I can suggest a way of listening to it, first by identifying one thread of the music and focusing exclusively on it as it winds it's way through successive passages in a piece. Sometimes it helps to have a visual cue when you do this – which is why it's so good to hear these guys live because you can watch whoever is carrying the weight behind a particular thread in the music. Pick out a new thread in the music and do this again. Finally, mentally step back and listen to the rich totality of all of it.
One of the elements of Out of This World that I particularly appreciated was their treatment of the chant Ave Regina Coelorum. Chanticleer performed the same material three times in a row with three very different treatments. I'd never heard the Guerrero, Gabrielli and plainchant versions of this sung back to back. The repetition allowed one find a space for oneself in the Latin lyrics and hear them unfold and double back on themselves.
Also worth comment was Island in Space, by American composer Kirke Mechem. Beginning with the classic "dona nobis pacem" the text wandered into very familiar comments by astronaut Russell Schweickert before settling in on a second text by Archibald Macleish. I confess, I immediately headed out to iTunes as soon as I got home to get a copy of this. While it's not presently available, hopefully, it will be shortly.
We're lucky to have Chanticleer as a local band. They'll be back in the bay area with several different shows this year. I hope to be there, again and again.
Chanticleer – 'Out of this World'
5 out of 5 stars
September 25th ~ Napa Valley Opera House
September 26th ~ St. Francis Church, Sacramento