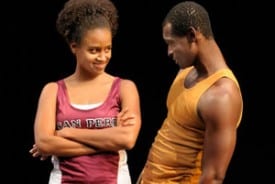 Marin Theatre Company announces that Isaiah Johnson, Shango in the production of In the Red and Brown Water (review), will be leaving to join the Broadway cast of The Merchant of Venice with Al Pacino. Mr. Johnson will appear as the Prince of Morocco in the highly anticipated production beginning previews October 19. His last performances at MTC will be Sunday, September 26. We congratulate Mr. Johnson on this extraordinary opportunity. Aldo Billingslea will take over the role of Shango for the remainder of the production run, extended through October 10.
Bay Area favorite Aldo Billingslea has appeared at many Bay Area theaters including A.C.T., Magic Theatre, Theatreworks, Cutting Ball Theater, Playwrights Foundation, CenterREP, Playground, Marin Shakespeare Festival, as well as Oregon Shakespeare Festival. He last appeared at MTC in Splittin' the Raft.
In the Red and Brown Water tells the story of Oya, who can run faster than anyone but not fast enough to escape her fate. When pressed to choose between her dying mother and her own future, she makes a life-changing decision. Her journey from the promise of youth to the complicated yearnings of womanhood is a joyous, raucous, brazenly theatrical experience. "Tarell's story of love, desire, and betrayal centered around a young girl who can run like the wind is a beautiful combination of the Louisiana Bayou and Yoruban mythology," says director Ryan Rilette.
McCraney's celebrated The Brother / Sister Plays trilogy is receiving its West Coast premiere in an unprecedented partnership between MTC, Magic Theatre, and American Conservatory Theatre. This collaborative event brings all three parts of the play cycle to Bay Area audiences with each company producing one part of the trilogy. Magic Theatre presents Part Two, The Brothers Size, directed by Octavio Solis, now through October 17. A.C.T. presents Part Three, Marcus; or The Secret of Sweet, directed by Mark Rucker, October 29 through November 21.
Tarell Alvin McCraney's plays include Wig Out! produced in New York by Vineyard Theatre and in London by the Royal Court Theatre,Without/Sin and Run, Mourner, Run, both of which premiered at the Yale Cabaret, and The Breach with Catherine Filloux and Joe Sutton, commissioned by Ryan Rilette at Southern Repertory Theatre, where it premiered in August 2007 to mark the two-year anniversary of Hurricane Katrina. He is currently the Royal Shakespeare Company's international writer in residence, and is under commission at Manhattan Theatre Club and Berkeley Repertory Theatre.
Director Ryan Rilette is in his fourth season as Producing Director for MTC where he has directed boom by Peter Sinn Nachtrieb and Magic Forest Farm by Zayd Dohrn. From 2002 to 2008, he served as Producing Artistic Director of Southern Repertory Theatre.
In the Red and Brown Water cast now includes Ryan Vincent Anderson, Aldo Billingslea, Daveed Diggs, Nicole Foster, Jalene Goodwin, Jared McNeill, Lakisha May, Josh Schell, and Dawn L. Troupe.