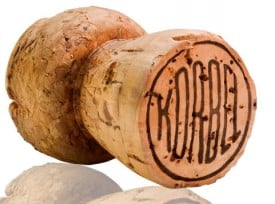 One of the reasons for champagne's immense popularity is that there is a champagne for every taste; from subtle, bone dry champagne to luscious, fruit-forward champagne with plenty of residual sweetness. Sadly, sweet champagne has become a rarity in recent years and fans of the style have rightfully felt neglected. Now Korbel Champagne Cellars comes to their rescue with the introduction of Korbel Sweet Cuvée California Champagne, a deliciously sweet premium sparkler.
Korbel Sweet Cuvée is produced via the traditional méthode champenoise, in which fermentation in the bottle adds the sparkle. While slower and more costly than the bulk (Charmat) process used to make most sweet champagnes, this time-honored technique results in fine, persistent bubbles and a polished texture. Korbel blends four grape varieties to achieve Sweet Cuvée's fresh, opulent style; Chenin Blanc for forward fruit, Chardonnay for body and structure, French Colombard for bright acidity and Muscat Canelli for full bouquet. A "topping off" dosage of sweet wine just before corking enhances the distinctive personality of the Korbel Sweet Cuvée.
Korbel Sweet Cuvée's fresh, forward peach, nectarine and tropical fruit aromas are accented by subtle yeast notes. The flavors are similarly fresh and forward, with generous peach, pineapple and tropical fruit character complemented by lively effervescence and medium sweetness. Bright acidity balances the palate, enabling this sweet sparkler to be served both as an aperitif and as an accompaniment to fruity desserts like peach sorbet and berry pastries. Approximately 25,000 cases of the Korbel Sweet Cuvée California Champagne were produced. It is available nationally at a suggested retail of $12.99.
Established in 1882, Korbel Champagne Cellars produces the United States' most popular méthode champenoise champagne. Owned and managed by the Heck family since 1954, Korbel currently makes 11 California champagnes and a small amount of still wine. In a separate facility, Korbel also produces one of the country's most respected brandies.
Korbel Sweet Cuvée; Chenin Blanc, Chardonnay, French Colombard, Muscat Canelli; abv-11%; srp-$12.99; cases-25,000