Intersection for the Arts and Resident Theatre Company Campo Santo, present the World Premiere of Habibi, a new play by emerging playwright Sharif Abu-Hamdeh. This intimately woven play tells the story of three different generations of Palestinian immigrants all attempting to make sense of the world that surrounds them. The quest to find where their cultural legacy lives in their lives, their families, and in the United States flows through all the characters in the play. Habibi honestly grapples with the universal theme of where we see ourselves fitting in the world.
Performances begin on October 14, 2010. Press Opening is on Monday, October 18 at 8pm. All performances are at Intersection, 446 Valencia Street between 15th/16th Streets at 8pm, October 14-November 7, 2010. Tickets are $15-$25.
Habibi intimately and deftly dances with issues of cultural identity, immigrant assimilation, and alternately with the mysteries of art and cultural theft. The Palestinian continuum is examined in the micro and macro all rooted in the question: When is theft acceptable? The play's main storylines cut and merge between following a father and son in terse, up close scenes in their tiny Mission District apartment and the seemingly separate lectures on art thefts through the ages by a young woman in a museum.  The commonality between these worlds is revealed both in theme (the questions of cultural co-optation alongside art thievery); and in lineage (all of the characters are Palestinian immigrants).  Where does culture end up after loss, theft, migration, generations? These large questions are weaved into the play's rhythmically precise dialogues and psychically pressured monologues – all portending an impending explosion.  The worlds do all collide in the end as we follow a mystery trail: a combination of the art theft lectures; the father son generational blow ups; and the overriding search for place for all Palestinians and for many, many immigrants. Sharif Abu-Hamdeh manages to delicately and precisely create a story that transcends any obvious political undertones and seamlessly allows audience members to place their own personal experiences of belonging within each of the characters in the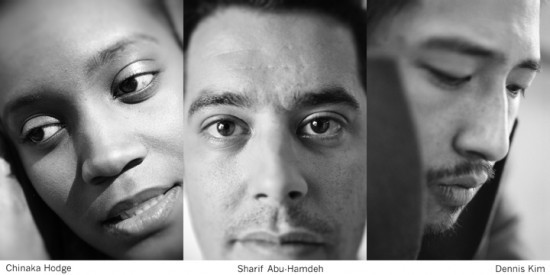 Habibi is the second installment in a back-to-back-to-back trilogy of new plays by first-time playwrights, which Intersection for the Arts and Campo Santo have been focusing on and developing for the past several years. This trilogy began with the Winter 2010 World Premiere of Chinaka Hodge's critically acclaimed play Mirrors In Every Corner directed by Marc Bamuthi Joseph and will culminate in Fall 2011 with the new play Tree City Legends by musician, poet and emerging playwright Dennis Kim (aka Denizen Kane). All three writers share immigrant and minority status living in America and all three of their plays involve themes of cultural conflict and identity – complex and contemporary themes for writers to undertake in their first plays, but are showing to be quite compelling and moving on the stage. These three plays form the core of Campo Santo's The Next – New Play Lab, a home and development facility for taking writers through the process of development, outreach, and premiere of their first productions, and beyond, in Intersection and Campo Santo's unique Open Process development and premiere play program.
Campo Santo, now entering its 15th season of presenting new plays, has spent the past many years focused on expanding its history of developing and creating first plays. Campo Santo has dedicated more time to actively fostering and incubating some of the next generation of writers, starting with Chinaka Hodge, Sharif Abu-Hamdeh and Dennis Kim. After creating a body of work, by building ongoing, long term relationships with some of the country's best playwrights including, Philip Kan Gotanda, Jessica Hagedorn, Naomi Iizuka, Octavio Solis and Erin Cressida Wilson, to name a few, Campo Santo has simultaneously strived to find the most inventive and impactful voices and narratives for the stage. In this process of continuing to experiment and explore with new plays with some of the foremost playwrights working, Campo Santo, with Intersection, has been able to create a special place for developing and creating the first plays by some of the most important and amazing writers outside of theatre including, Jimmy Santiago Baca, Junot Diaz, Dave Eggers, Denis Johnson, Greg Sarris, and Vendela Vida among them. Given that we have been able to develop, outreach, and create more than 40 new plays in this process, we wanted to offer this dedication and commitment to younger writers too, aiming to create their first plays. We have been fortunate to meet three unique talents in Chinaka, Sharif and Dennis to support and incubate. We have already started this trilogy with roaring success in Chinaka Hodge's Mirrors In Every Corner. After beginning development with Chinaka in 2007 the play was premiered this year in February enjoying a wildly successful multi-extended and sold out run. We developed the play intensively for three plus years with director Marc Bamuthi Joseph and in association with the Living Word Project, which has a roster of younger writers, many spoken word artists – truly a push toward new types of writing voices. The hope is, the trajectory of working with writers from different mediums and backgrounds outside of theatre will infuse and inform the theatre world as artists like Jessica Hagedorn and Ntozake Shange did in their seminal works, and then later in their new theatre pieces with Campo Santo (Hagedorn in 2004 and 2006 and Shange in 2007). Chinaka, Sharif, and Dennis Kim's plays have all been developed concurrently, in different stages, creating an even more exciting theatre full of work, writings, and collaborators. The energy that these writers bring and that their work requires and attracts has also helped forge new inroads and relationships with a wide array of collaborators: community groups, arts groups, actors, designers and audiences. This cycle of generating plays and dialogues for new audiences these past many years with more than 40 new plays has now in turn begun to develop some of he next generation of theatre makers and audiences alike.
Sharif came to Intersection and Campo Santo through Campo Santo's residency at the University of California at Santa Barbara's Summer Theatre Lab, a program run by Naomi Iizuka from 2004 through 2006. Intersection and Campo Santo's Deborah Cullinan and Sean San Jose helped seed some of the goals behind the unique theatre lab which offered UCSB students a special opportunity to study and train with theatre practitioners, while simultaneously participating in the development of new plays. While at the Summer Theatre Lab at UCSB Abu-Hamdeh worked directly with Campo Santo for three summers and studied with and worked alongside Jimmy Santiago Baca, Naomi Iizuka, and Jessica Hagedorn, learning invaluable skills about playmaking as well as witnessing the development of their new plays with Campo Santo. While in the Summer Theatre Lab, Abu-Hamdeh was eventually part of Iizuka's staff and also worked with innovative artists like Luis Alfaro, Ricardo Bracho, Chay Yew, and many more. Upon leaving Santa Barbara a year after graduating, Sharif returned to his family's home in the Bay Area and immediately began interning with Campo Santo. His internship quickly grew into full participation in the play-making world and he worked on the creation and production of multiple new plays assisting directors Jonathan Moscone, Sean San Jose, Danny Scheie, Octavio Solis, and others. During this time Sharif also began study in playwrighting workshops and in the play development with great writers like Philip Kan Gotanda, Jessica Hagedorn, Naomi Iizuka, Denis Johnson, and others. For his first several years Sharif never even mentioned his writing or interest in playwrighting, but rather steadfastly showed up, worked and soaked in the Intersection community of art making and community building. Finally, years later he presented Sean San Jose with some of his earlier works and then eventually came the first draft of Habibi. From there, Sharif and Sean San Jose began a rigorous process for nearly five years of developing, expanding, and honing the piece into where it is now, readied for production. Since the exhaustive and experimental process of developing Habibi began, Sharif has since revealed a well of stories and styles, now with more than four plays in his emerging body of works.
Sharif came to theatre as an Arts student and was introduced to theatre in a class at UCSB taught by Naomi Iizuka. He graduated with a degree in Art and Painting and one in Psychology. During his time at UCSB he co-founded and co-edited an arts journal, as well as starting a line of original art t-shirts. His history and interest in visual arts is still apparent in his writing, both in the stories and references and also in the delicate visual aesthetics. The art world finds an interesting place in his first play Habibi and not in the biographical way one might predict. His varied interests and studies, combined with his family history all too inform the telling of Habibi. The painfully honest and heart breaking father and son scenes echo Sharif's own family- his father is in fact a survivor of the refugee camps of Jordan, one of Palestinian diaspora surviving in the world without a land to call home. All this history and culture informs this play so directly and yet, in its cultural specificity the play aims for a larger human truth. This all a testament to Abu-Hamdeh's experimental and individualized style and voice. This emerging voice is already being heralded. Sharif Abu-Hamdeh is the lone writer accepted to this year's Master of Fine Arts Playwrighting Program at the University of California at San Diego. He becomes part of a department that has only five playwrights accepted in total over three years. He starts this MFA program after being accepted to the CalArts MFA program last year as well as being a finalist for the Yale School of Drama. Rather than attend CalArts last year, Abu-Hamdeh chose to wait to apply to UCSD and to continue his theatre training experience with Campo Santo. As a member of the Campo Santo family, Sharif worked on the final development of Habibi, and workshopped two other plays, and too was the collaborative director of Sunday Will Come, the collaborative project by Campo Santo and the Erika Chong Shuch Project last fall. As he enters the MFA program at UCSD, Sharif is receiving the first of what surely will be many world premiere productions.
Habibi also brings some long time collaborators back to working with Intersection and Campo Santo as well as some new faces to our stage.
Omar Metwally, the director, is returning to Campo Santo after working in New York and Los Angeles on stage, film and television. He worked with the company on one of his first projects after graduating from ACT's MFA Program, appearing in the Campo Santo and Intersection production of Naomi Iizuka's Polaroid Stories in 1998, as part of a cast that included Margo Hall, Hansford Prince and the late, great Luis Saguar, and directed by Delia MacDougall. After working for several more years with Campo Santo, Metwally moved to New York where he went on to star on Broadway in a Tony Award nominated performance in Sixteen Wounded, and worked on several productions of Tony Kushner's Homebody/Kabul. Soon after, he was cast in a pivotal role in Steven Spielberg's film Munich, also penned by Kushner. Omar was also seen in the Gavin Hood directed film Rendition, among others. He has worked with Sir Anthony Hopkins, Laura Linney, Reese Witherspoon, and Jake Gyllenhaal, and has been directed by Spielberg, Hood, Ivo van Hove, James Ivory, and Julian Schnabel. Omar is featured in Schnabel's new movie Miral, based on Rula Jebreal's memoir of her tumultuous Palestinian upbringing. Omar's work in Miral is part of an ongoing connection to work dealing with Palestine/Israel. It was around his work on Middle Eastern subjects that he first began directing in New York for the Arab American Comedy Festival. Habibi marks a continuation along these lines as well as his homecoming to Campo Santo.
Actor Paul Santiago goes back with Campo Santo beginning with the group's transcendent Hotel Angulo by the late, great Luis Saguar, and Contagion, Wheel of Fortune, Everything Has Been Arranged. All this while continuing his massive body of work throughout the Bay Area, most recently at the Aurora Theatre and with Golden Thread. And, as always alongside the Campo Santo players come exciting folks who are new to the Intersection stage.
Actor Nora el Samahy has worked with Campo Santo over the years participating in, Wheel Of Fortune, Let the Northern Lights Erase Your Name, while performing throughout the Bay Area at the Aurora and the Magic Theatre (including work in Palestinian American Betty Shamieh's play).
Actor Aleph Ayin currently playing Achilles in Shotgun Players Summer show joins Campo Santo and completes this tight and strong cast of three for Habibi.
Campo Santo is Intersection's Resident Theatre Company. Founded in 1996 by Margo Hall, Luis Saguar, Michael Torres and Sean San Jose, Campo Santo is now entering its 15th year, having produced more than 45 critically acclaimed premiere productions with Executive Director Deborah Cullinan. Campo Santo works with writers of all genres – poets, novelists, screenwriters as well as playwrights – in long-term relationships to develop and create new works for the stage. Intersection and Campo Santo have developed the first plays by many of our great contemporary writers including Jimmy Santiago Baca, Junot Diaz, Dave Eggers, Denis Johnson, Vendela Vida and more as well they have developed and produced multiple new plays in their ongoing relationships with Philip Kan Gotanda, Jessica Hagedorn, Naomi Iizuka, Octavio Solis, Erin Cressida Wilson, and more, most recently the first play from Chinaka Hodge, Mirrors In Every Corner, and the latest theatre piece helmed by Cherrie Moraga, La Semilla Caminante.