Hogs have been enjoying a noticeable surge in "pig popularity" in our food culture.
This rise in adoration for "The Other White Meat" can be traced back to the "bacon mania" movement that started to sweep through US, Canada and UK in the 80s and 90s with the advent of the high-protein Atkins diet. It has morphed from a simple affection for classic bacon to a voracious appetite for cuisine curiosities such as "Bacon Explosion", bacon donuts, and even bacon chocolate.
There is even bacon-flavored lip balm for those that want the bacon feeling between meals. And to keep things social, there is even BaconCamp San Francisco where people passionate about bacon share the obsession with others. It's a massive potluck whose net proceeds are donated to the local food bank.
Somewhere in this rise in pork popularity, the "white" in pork seems to be dropped for the seductive fatty cuts that are magnets for flavor.
What do you get when this bacon mania meets the "nose to tail" trend?
Elevation of the whole hog to culinary rapture as was demonstrated in this year's SF Chefs wine and dine opening night event. It was pork in all its glory as about 30 of the finest chefs in the San Francisco Bay Area gathered together to see what could be created when there are unbridled amounts of pork provided by the National Pork Board.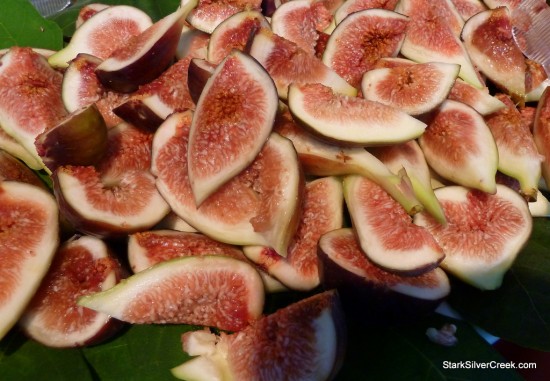 During the Hog in the Fog event, I came to a couple of conclusions:
Pork with flavorful fruit sauces are still a classic. Ditch the traditional apple pairing for figs.
Braised pork belly on fresh delicate bread that is lightly toasted on the outside and smothered with just a hint of pungent cheese: To die for.
Pulled pork…mmmm. Enough said.
I am not a fan of pork in dessert. I know there is the bacon chocolate and donuts craze. Perhaps it is just too sinful in my books. I have to face myself in the mirror in the next morning.
There is such a thing as too much of a good thing. I enjoyed the restaurants that bucked the trend in favor of creations that were light and refreshing. They were an oasis in a sea of gluttony.
There is no such thing as calorie-free pork. I am still paying homage to the gym gods.
Missed the ode to pork event?
No worries, there are plenty of pork on the menus of San Francisco Bay Area restaurants. Here are some of the ones that sound just down right delicious from the restaurant featured at SF Chefs 2010 Hog in the Fog.
Guide to Hog in the Fog

(participating chefs, restaurants and the hog dishes that look enticing)


A16, Liza Shaw
Mixed roast of Berkshire pork ribs and sliced shoulder with lemon and peppercress ($23)

Ame, Orlando Pagan
Crispy Suckling Pig in Wholegrain Mustard Pork Sauce,
Yukon Gold Potato Puree, Caramelized Pearl Onions, and Petits Pois à la Française ($34)

4505 Meats, Ryan Farr
4505 Uncured Hot Dogs (3lbs for $21)

Bar Bambino, Lizzie Binder
Grilled prosciutto-wrapped peaches with dandelion greens ($11)

Big Jim's BBQ, Jim Modesitt
Award winning Saint Louis style pork ribs and pulled pork

Branches Wood Fired Chophouse, Munther Massarweh
Opening Fall of 2010

Chef Munther Massarweh, Branches

Butterfly, Robert Lam
Hoisin Glazed BBQ Baby Back Ribs ($16)

City Club, Michael Munoz
Bacon Wrapped Pork Tenderloin ($34) – sample event menu

COCO 500 & Moss Room, Michael Morrison
Wood oven roasted pork shoulder, sweet corn, cherry tomatoes, fresh shelling beans, gremolata

Cuesa, Sara Henkin
Greek Pork and Beef Sausage with Orange Zest, Coriander, and Chili Flakes (recipe)

Farallon, Mark Franz
House made charcuterie platter ($12)

Firewood Café, Glenn Meyers
Prosciutto Pizza ($9.75)

Frances, Melissa Perello
Applewood smoked bacon beignets – Maple crème fraîche & chives $6.50 each

The Grove, Jeff Saad
Fra Mani Soppressata Salame provolone and pepperoncini sandwich

Iluna Basque, Mattin Noblia
Piperade with Sautéed Serrano Ham & Poached Egg ($14.75)

Incanto, Chris Cosentino
Pork, watermelon & heirloom tomatoes ($24)

Kuleto's Italian Restaurant, Robert Helstrom
Filetto di Maiale Prosciutto wrapped Niman Ranch pork tenderloin, crispy lentil risotto cake, rhubarb agro dolce ($27.00)

La Mar,TBA

Lake Chalet, Jared Doob
Carolina style bbq pork sandwich with spicy jalapeño slaw, fried onion strings, little gem & fuji apple salad ($14)

Le Colonial, Joseph Villanueva
Thit Heo Nuong – Grilled coconut brined Berkshire pork chop, caramelized fennel and sweet soy reduction ($27)

Midi, Michelle Mah
Roasted black mission figs and prosciutto burrata, micro arugula, saba condimento, paesano extra virgin olive oil ($13)

Namu, Dennis Lee
Heritage pork chop, grilled citrus, denjang balsamic reduction, spicy wild arugula slaw ($19)

Poggio, Peter McNee
Spit-roasted local pig with polenta, rapini, cherry tomato confit ($21)

Roam, Lynn Gorfinkle
Plenty of beef turkey and bison, but no pork on menu.

SF Soup Co., Steve Sarver
New England Clam Chowder a traditional recipe made with clams, potatoes and bacon.

Silver Moon Desserts, Sheri Tate
No pork currently in their flavor selection but Orange Creamsicle sounds heavenly.

The Restaurant at Wente Vineyards, Eric Berg
Smoked double cut pork chop, cider braised escarole, chanterelle mushrooms, crème fraîche potatoes ($29.75)

Team Wente Vineyards Restaurant

The Slanted Door, Charles Phan
Grilled range brothers' berkshire pork chop with shallot-ginger-soy and crispy potatoes ($34)

For Hog in the Fog, Chef Charles Phan decided to change it up by showcasing a halibut dish instead.

Tres Agaves, Kelvin Ott
Carnitas – slow-roasted pork rubbed with mexican oregano, sea salt & arbol chile $18.75)

XYZ, Paul Piscopo
Pork osso buco with escarole, creamy polenta & cara cara orange gremolata