Is lard, and all things fattening and tasty making a comeback? According to some local chefs and butchers in San Francisco that may very well be the case. On the matter of pigs, Chris Jones, executive chef at The Fig & The Girl restaurant says, "People are coming back to the fact that it tastes good."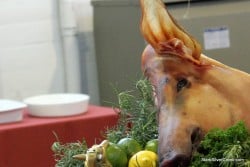 The "nose to tail thing" as he calls it has seen a recent surge across restaurants that are looking for creative ways to get people once again comfortable with foods normally considered too fat, or taboo.
Of course, nothing draws attention quite like a pig head on display; a horse racing homage to the Godfather? Either that, or just a good bacon sandwich on the standby.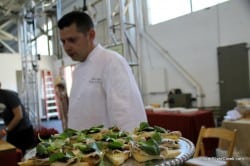 Tia Harrison, one of three partners (or as Loni says, "Ah, women!?") at Avedanos's butcher shop in San Francisco, prefers a throwback method towards the family Suidae:
"We do everything by hand. Old school… with saws, and knives. We work pretty much with local farms."
Once again, this might be another first for a SSC interview.
Loni is able to simultaneously interview Chris Jones while sampling his suckling pig on brioche, and enjoying some fine Italian wine all at the same time.
How is that humanly possible?
Oh, that's an easy trick long-mastered by the "sushiweakness": simply have the subject hold the mic. Then switch just in time for him to describe how he breaks down and bones a pig. Brilliant!