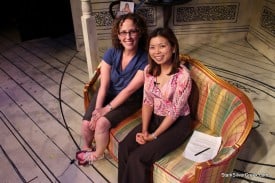 Director Meredith McDonough sits down with Loni to talk about the world premiere production Auctioning the Ainsleys (review) and what it means to sell-off things that matter to you. "You see that little music box, and go 'Oh my gosh!'" she says. "I remember my entire seventh birthday in that moment."
The show, now playing at TheatreWorks at the Lucie Stern Theatre in Palo Alto, is a comic drama centered on a family of professional auctioneers. It raises some thought-provoking questions and explores universal themes, such as: what happens when what we own becomes more important than who we are?
"The play came to me [from playwright Laura Schellhardt] when I was in the process of packing my childhood home," she recalls. "The process of sorting through things, and the memories that come back. It's extraordinary, and something that everyone shares."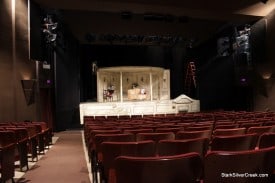 In her review of the show, Patricia Reardon wrote, "Auctioning the Ainsleys is an absurd, charming, funny production about people, objects, family and what happens to all of them when one's memory is Going… Going… GONE!"
Much like the innovation that fuels start-ups across Silicon Valley, TheatreWorks actively nurtures and grows promising playwrights such as Laura Schellhardt who wrote this play, and won the New Works Festival last year. Auctioning the Ainsleys marks the 54th time a show has made its World Premiere, enabling TheatreWorks' audience to see a show, its strengths and weaknesses, for the very first time. Next season, three new plays will make their premieres thanks to the program — celebrating its 10th anniversary — that seeks the fresh, and the bold.
Perhaps Meredith says it best, "The great thing about Bay Area audiences is that they are really excited about and used to new work."
Auctioning the Ainsleys

A Family up for Bid
By Laura Schellhardt
Directed by Meredith McDonough
TheatreWorks
Lucie Stern Theatre, Palo Alto
Now playing, through August 8th
World Premiere

Going once…going twice…The bids come fast and furious as a family of professional auctioneers puts its heart, its heritage, and even its darkest secrets on the block in this comic drama that electrified our New Works Festival. With a brilliant flair for mystery, language, and laughter, one of America's hottest young playwrights explores what happens when what we own becomes more important than who we are. Contains mature language.
2010 NEW WORKS FESTIVAL

TheatreWorks
Lucie Stern Theatre, Palo Alto
August 7 – 22, 2010

An extraordinary opportunity to experience new plays and musicals in their early stages of development, the Festival has launched many new works onto TheatreWorks' stage and on to productions nationally. Unlimited access $75.