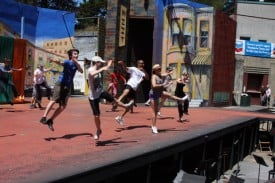 Producers Associates, Inc. will continue the 44th season of the Woodminster Summer Musicals with one of the most famous and popular musicals of all time, Meredith Willson's The Music Man, playing at 8 p.m. on August 6, 7, 8, 12, 13, 14, and 15. Tickets are $25-$40, with discounts for seniors, half-price tickets for groups of 25, and season tickets that offer a savings of about 15%. The organization continues its "Kids Come Free" program, where children and teens 16 or younger who are attending with paying adults can get free tickets on performance nights.
"The Music Man" won the Tony Award for Best Musical in 1958, against stiff competition from "West Side Story." It also won 4 other Tonys and the New York Drama Critics' Circle Award for Best Musical, and ran for almost 1400 performances. The show has enjoyed two Broadway revivals and numerous high-profile productions around the world, including a Chinese translation staged in Bejing's Central Opera Theater in 1987. It remains a popular standard that is produced by regional and community theaters everywhere. It is Woodminster's most-produced musical, with previous productions in 1967, 1971, 1982, and 1996. It features a huge cast of all ages and many songs that are part of our cultural heritage, like "Gary, Indiana," "Till There Was You," and "Seventy-Six Trombones."
In Woodminster's 2010 production, the role of fast-talking traveling salesman Harold Hill will be played by Bob Moorhead, who has been a favorite with Woodminster audiences for a number of years. Bob has played many of the great iconic musical theater roles for Woodminster, including Captain Hook, the Tin Man, Daddy Warbucks, and Henry Higgins. He played Harold Hill once before, in Woodminster's 1996 production of "The Music Man."
Strong-minded, romantic Marion Paroo is played by another Woodminster favorite, Susan Himes Powers, who last season was Fiona in "Brigadoon" and Lena Lamont in "Singin' In The Rain." The role of Mayor Shinn will be played by Greg Carlson, who has delighted audiences in many Woodminster roles, perhaps most memorably Edna Turnblad, the big-hearted and just plain big mom in "Hairspray," as well as the Cowardly Lion in "Wizard of Oz" and Horton the Elephant in "Seussical." The rest of the cast of about 50 is comprised of professional and non-professional actors of all ages, coming from over 20 cities around the Bay Area and beyond. The Woodminster general auditions for 2010 attracted over 300 actors.
Woodminster's "The Music Man" is directed by Joel Schlader. Choreography is by Harriet Schlader, with vocal direction by Kim Vetterli. The orchestra is composed of members of Musicians' Local #6, conducted by Richard Vetterli.
The Woodminster Summer Musicals are performed under the stars at Woodminster Amphitheater, an open-air performance facility in Joaquin Miller Park high in the Oakland Hills. The park's spectacular views and serene woodsy environment made it the perfect setting for the amphitheater, cascades, reflecting pool, and paths that were originally built as a WPA project in 1939-40. For many East Bay families, it is a long-standing summer tradition to enjoy a picnic in the park and then see a musical at Woodminster.
Producers Associates, Inc. was founded in 1967 by the late James Schlader (who died May 8, 2010 at age 96) and his wife, Harriet, to provide affordable live summer family entertainment in the East Bay, and to foster a love of live theatre. For more than four decades, the organization, in partnership with the Oakland Park and Rec Department, has been producing summer musicals at Woodminster Amphitheater. Healthy season tickets sales, attendance by groups, and special opportunities for families have made Woodminster shows the best attended performances in Oakland. Today, it sells the highest number of individual tickets of any of the major resident performing arts organizations in the city.
New for 2010, the organization has instituted a $10 Preview Night as part of its ongoing effort to offer affordable ways for people in the community to enjoy live theater. The last dress rehearsal (August 5, 8 p.m. for "The Music Man") will be open to the public. All tickets are $10, with no further discounts, and all seating is open, first-come, first-served. There will be no advance sales for Preview performances. Tickets will be available only at the box office on the night of the Preview performance. For more information about the 2010 season or history of the organization, visit https://www.woodminster.com.