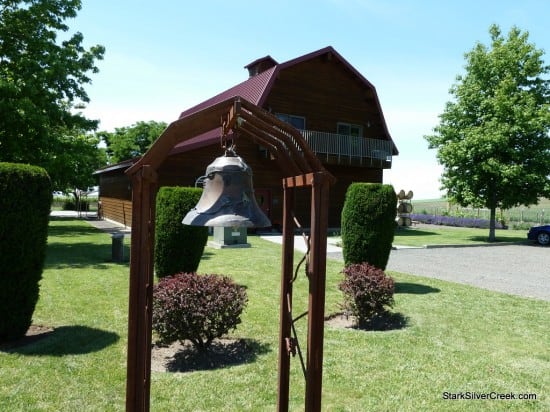 Blowing someone's cover can be tricky business. On the surface, Walla Walla wine country is a sleepy, idyllic town (WineTube TV: Walla Walla in 60 seconds). Yet my visit to the area proves that not everything is as it first appears in this sweet onion capital.
My adventures all started with an innocent phone call.
The voice came across vividly on the other end of my iPhone as we barreled down Mill Creek Road, moving further from downtown Walla Walla. Around us, the occasional barn or metal structure whizzed by against an idyllic backdrop of grass and agricultural lands.
"Gordie" is the gentleman on the other end who answered when I dialed the number listed for Walla Walla Vintners. It is a Thursday and according to my winery guide, Walla Walla Vintners was opened today "by appointment only." I was heartened that Gordie was able to accommodate us on such short notice.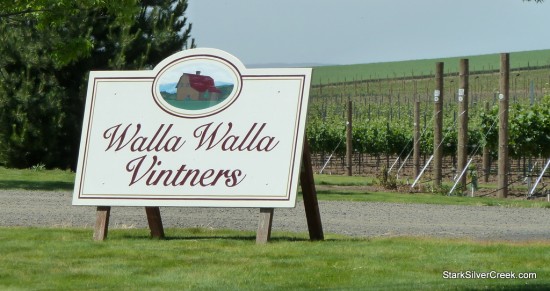 We arrive a few minutes later at a simple, brown, barn-like structure on Vineyard Lane. There weren't any signs pointing to the entrance of the tasting room. A guy with a red baseball cap approaches in a pickup truck.
"Are you Gordie?"
Turns out he is not, but he offers to ring up Gordie. A few moments later, a gentleman in a checkered shirt greets us and gestures in the direction of an unmarked door. We suspect this is the tasting room and tentatively approach.
Through the door is a casual tasting area. A slab of granite serves as a counter top. Around, the walls are cluttered with cases of wine, ribbons and signs. Behind the tasting table a rustic mural.
First up is a 2008 Columbia Valley Sangiovese ($24). The order of the wines sampled matched the order of their respective boxes lining the walls. The wine expressed bright notes of strawberries and good acid balance making it a great wine for richly seasoned grilled lamb. This was followed by their selections of Cabernet Franc, Merlot, Malbec, Syrah and Cabernet Sauvignon.
Walla Walla Vintners specializes in red wines and sources its fruit from several surrounding vineyards including Pepper Ridge, Morrison Lane and Sagemoor. They were the 8th winery in Walla Walla and have chosen to form partnerships with local vineyards for their fruit. This continues to be the plan going forth, although Gordie was proud to point out a few acres of freshly planted vineyards next to the tasting and production facilities which will start producing fruit for an estate red.
As I taste the wines, I peruse the perimeter of the room. I noticed an article clipping pinned to the wall. The person in the photo looks familiar. I glance over at "Gordie" and realize that our host is also the co-owner and winemaker of the winery.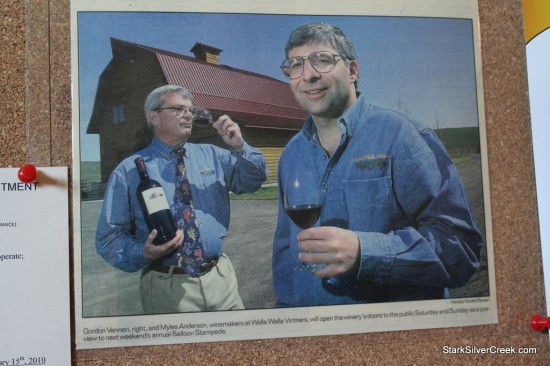 Perhaps if you frequent Walla Walla wine country, this would not be shocking. However, my encounters with wineries is rooted in numerous visits to Napa and Sonoma. It is a rarity in Napa and Sonoma to stumble into a winery unannounced and have the owner and winemaker be the one pouring the wines.
I approach the granite slab again and triumphantly call Gordie out as the owner. Gordie gives a mischievous smile and admits he is indeed Gordon Venneri. He relishes being incognito playing the role of the receptionist and glass washer as needed.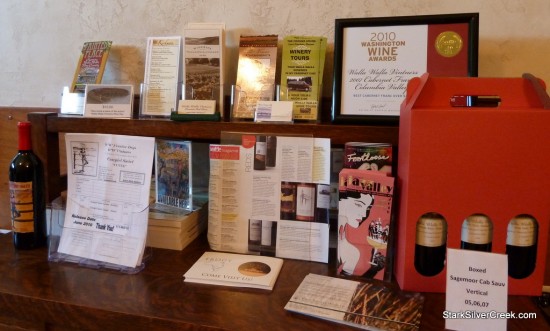 He recounts an incident where he was washing glasses as a couple entered the tasting room. They think he is just some hired help. It took the couple a few moments of staring at the newspaper clipping before realizing the glass washer they spotted coming in was the owner. Gorden beams as he describes this incident. I visualize Gordon, posing nonchalantly as he savors the moment through his peripheral vision. The surprise on the couple's faces must have been similar to my own.
Wearing multiple hats is not new to Gordon who started the winery with his partner Myles while he was still a CPA and field agent for Knight of Columbus Insurance.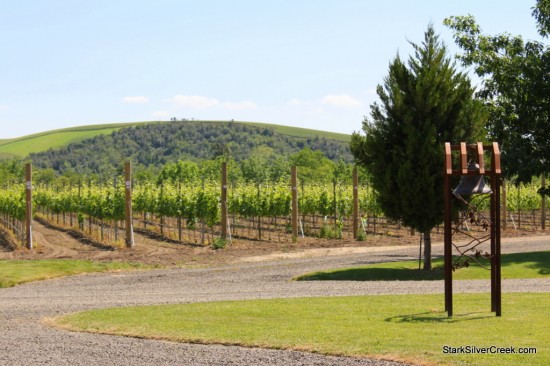 As I talk to Gordie, I can't help but become infused with his enthusiasm and humor. He was pleased to help carry our wine to the car, simultaneously pointing to the location of the newly planted vines. He traces several famous vineyards which his property borders. He remarks how close his property is to a vineyard from which Leonetti Cellar sources its fruit for one of their premium wines.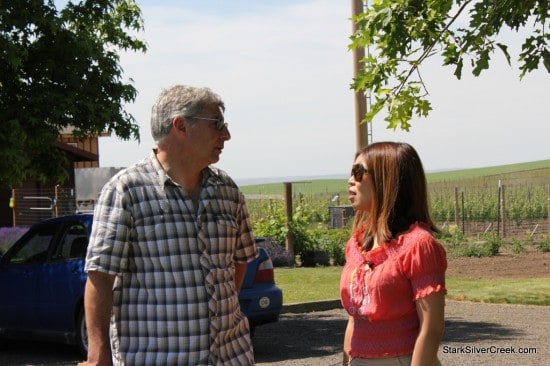 By the time Gordon shuts the trunk of my rental car, securing the wine inside, I felt like we were old friends.
The experience is reflective of many of the Walla Walla wineries I visited. Down-to-earth, unpretentious and friendly. Okay, perhaps I have yet to meet another winemaker that enjoys being incognito as the glass washer.
It seems in Walla Walla, it's not only their onions that have many layers.
Walla Walla Vintners
225 Vineyard Lane
Walla Walla, WA 99362
Phone: (509) 525-4724
Fax: (509) 525-0524
info@wallawallavintners.com