The "artistically bent" were out in force at the third annual SubZERO Festival in downtown San Jose. Organizers must again be pleased with the crowds who seemed to be having a techno-fueled good time. Galleries across the SoFA district opened their doors and showcased exhibits about politics, unicorns, daydreams and Tahitian dresses. Meanwhile, throngs of colorful artists and vendors lined the streets with a variety of artistic creations, some metallic, some fabric, some plastic, and some unknown.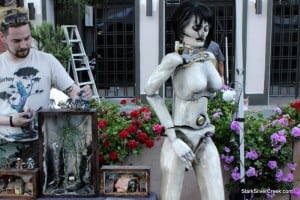 With Gynoid we even get a glimpse into a dystopian future. And, not everyone is necessarily bad in this land. "Just attempting to survive," says sculpture and episodic series creator Brad Isdrab. Down the street, The Art of Politics explores the tradition of printmaking as a political and artistic movement in the San Francisco Bay Area. Talking about her piece on native Hawaiians, artist Melanie Cervantes said, "It was amazing to connect the dots… Lolani palace was the last place where the sovereign Queen reigned before the annex. It was an amazing experience, since we're political artists."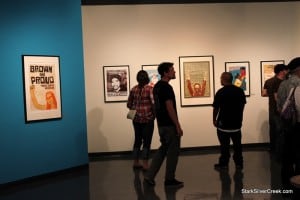 Then there was the music. Loud. And lots of it (check out the Ferocious Few in the segment below!). The stage just next to the California Theater on South 1st Street was most definitely a happening place, and people enjoyed some rocking, punking, jamming, thrashing, grooving stuff.
For the esoteric and more David Lynch-inclined the Looping Lounge was a popular destination. Rick Walker and Nadia Shihab mashed-up an experimental, techno sound that included looping samples, sound processed violin, against the backdrop of a gyroscopic-like projection screen. I guess you had to see it, to understand (or not).
More on SubZERO: In Photos: SubZERO Festival San Jose, complete photo gallery.