Stories continue to be told about the 1913 opening of Stravinky's Le Sacred du Printemp (The Rite of Spring). The rioting audience was so loud that the dancers could not longer hear the music. While the audience last night was kinder, this piece continues to be evoke a sensory overload. While musical attempts to create anxiety are so commonplace, they're annoying, this piece works so well, I was at the edge of my seat throughout the entire performance.
But I get ahead of myself… Prior to the Rites of Spring, the first part of the evening was spent with four incidental twentieth century pieces. Each was so very different from the others that it proved to be an intellectually interesting first half.
The evening opened with MTT and Yuja Wang playing Poulenc's Sonata for Piano Four Hands. Its always a treat to hear MTT play – and even more when he plays with Yuja Wang. I was only vaguely familiar with Poulenc – and appreciated the suggestions for recordings and readings that appeared in the program. In a playful way, MTT tips his hat to what will come later in the evening because Poulenc was strongly influenced by Stravinsky.
The Poulenc was immediately followed by Stravinsky's Capriccio for Piano and Orchestra. Collage-like with strange textures, the Capriccio was full of surprises; just when you think you know where the music was going, it takes off someplace different. This was incredibly complex with multiple layers of music laid over one another.
The horn section left the room for the performance of Villa-Lobos' Bachianas Brasileiras No 9 (1945) was a good choice to follow. I counted eight basses – and at least eight cellos – which made the rich, broody sound possible. If the performance included nothing but this piece, I would have been as happy as the proverbial clam.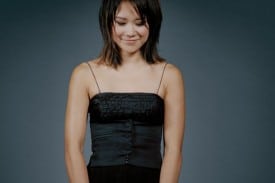 The Villa Lobo was followed by Ravel's Piano Concerto in D Major for the Left Hand (1930). Opening with bassoon and contrabassoon, this piece foreshadowed things to come as it was infused with an urgency. Watching from the balcony where I would see Yuja Wang's hands, I was amazed at her technical ability. It was no surprise when the audience rose to it's feet in appreciation afterwards.
While this first section would have been rich enough to stand by itself, it was a warm up act for what was to follow after intermission. As MTT notes in his program notes, it's easy to forget that Stravinsky is more or less a contemporary, as he died in 1971. While this seems as almost as far away as the heady days of the Ballet Russe for which this piece was written.
As I mentioned earlier, the Rites of Spring keeps one on the edge of their seat for the entire performance. MTT attributes the edgy sound in part to the fact that Stravinsky wrote this for the highest and lowest reaches of the instruments. For example, the bassoon pieces were impossibly high. Forcing the orchestra to work at the very edges of it's ranges infuses the music with a different kind of energy and gives the work an unexpected urgency. Angry and fierce, the music was impelled with a dominant persistence rhythmn that just kept pushing forward. New rhythmn were introduced – either as a call and response or simply laid over existing meters until there was a huge pile-up of sound. However, the end result left one energized rather than exhausted.
MTT's great personal affection for Stravinky is palpable in the music. Indeed, even just watching MTT conduct this performance was an experience as every muscle got involved, pulling this incredible sound from the musicians. This was indeed a concert that will be remembered by everyone present last night. One is grateful to the SF Symphony and grateful to MTT for making this all possible.
San Francisco Symphony
Thursday – Saturday, June 17th – 19th at 8:00 P.M.
Inside Music talk at 7:00
Davies Symphony Hall
201 Van Ness Avenue
San Francisco, CA 94102-4585