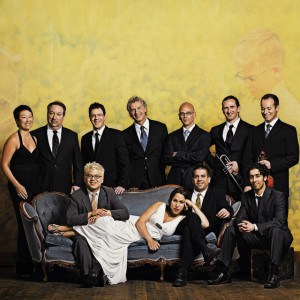 Davies Symphony Hall with the San Francisco Symphony playing backup to Pink Martini is about as close to heaven as you can get on this side of the celestial divide. Headlined by founder-pianist Thomas Lauderdale and vocalist China Forbes, Pink Martini had last night's audience eating out of their hands – and dancing a conga line out the door when the evening was over.
There's a lot written on the web about Pink Martini – but most of it comes nowhere close to getting it right. Mind you, all the stuff about them being a multicultural polyglot matching everything from Russian and Japanese lyrics to Latin and African rhythms is true enough, but you'd come away thinking you're going to be educated rather than entertained and you'd miss the fun. These guys are smart, they're funny, and they take you places.
We all have some kind of high water mark – and Pink Martini reminded me of my Aunt Ruthie's Cuba. "Havana 54" she'd say, conjuring images whose sex appeal different than Fidel. "It's not the Copa Room", she'd say, dismissing whatever my enthusiasm du jour was. Whatever was happening there for her was so fun, so cosmopolitan, so adult – that everything else paled in comparison – which is exactly the effect that Pink Martini has.
Last night's performance was all the more special because it included a guest performance by NPR's Ari Shapiro singing two numbers with the band. Shapiro's performance reminded me just how much the San Francisco we all love is built on personality. Decked out in a white sportcoat sans crustaceans, Shapiro brought down the house, singing "But Now I'm Back" the song of a spurned lover, showing up at the door, clearly not getting that there's no longer a place for him. A second guest performer, Tony winner Faith Prince brought down the house with a song from Guys and Dolls.
Just as Yo Yo Ma and Bobby McFerrin made classical music fun again twenty years ago, Lauderdale and Forbes make entertainment entertaining. This was a perfect place for the San Francisco Symphony. The future of classical music is hotly debated among those who wonder about the sustainability in which one concert program matches a list predictable standards that draw audiences with smaller bits of interesting lesser-known works. By working with Pink Martini, the Symphony reveals the enormous versatility of a world class symphony and makes one hopeful for the future.
Maybe that's what we've been needing during the current economic stress… I haven't had the impulse to follow a band around for a very long time, but last night ended just too early. Pink Martini is touring the U.S. in June and will be in Europe in July. They'll be in L.A. in September and I hope to be there. Aunt Ruthie would approve.