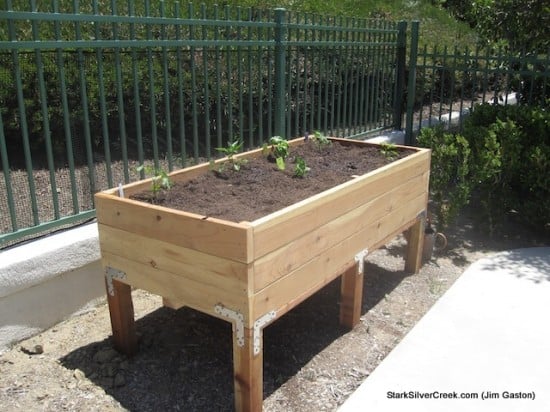 I had originally designed a vegetable planter box because I wanted to grow some tomatoes and herbs in an otherwise empty area in my side yard. After several requests from readers, I made the vegetable planter box plans available online so that StarkSilverCreek readers could build their very own.
In the course of two seasons, there have been over 2,000 downloads, hundreds of comments left in the download request form and numerous emails sent by those that are kind enough to share their results. I have seen variations of the planter box with no legs sitting flush against the ground, with wheels so that they can be moved around, painted in white instead of stained, and many more great ideas and suggestions.
Sometimes they are built exactly as I designed it. It is a strange feeling seeing a planter box that looks exactly like the one I have in my side yard, built and located half way across the world in Australia.
The latest email I received is from Jim G— who writes:
Loni:

Thanks for the planter plans. It was very simple to build and I had it done in one day. My wife has wanted to grow vegetables, but a bad back has kept her from doing it so this was a perfect solution.

I've attached a couple of pictures. I widened it to 3 feet so I added another 2×4 down the center with a leg in the middle for more support.

Thanks again!
Thanks Jim for the note and the effort you took to write into StarkSilverCreek.