Norman the librarian is one heck of a swinger, baby. The three woman in his life are disgusted by his philandering ways, at least most of the time. But for some mysterious, bullocks-to-the-wind reason find themselves drawn to his sexual, animal instinct and swagger.
It could be his fur hat. His polyester get-ups that would make Austin Powers envious. Or maybe it's just the way he can pound back the booze with poetic, stumbling aplomb.
In Round and Round the Garden, there is plenty of opportunity for laughs—for good-old, bawdy, Brit-style hoots.
Unfortunately they come few and far between, and by the time the payoffs start coming late in the second act, we're a bit dulled by it all, rather than shocked with amusement and surprise.
The story concerns the misadventures of three couples. Reg (Anthony Fusco) along with his wife Sarah (Marcia Pizzo) and his two sisters Ruth (René Augesen) and Annie (Delia MacDougall), who gather for a weekend at a country home. Starting innocently enough, given enough booze and darkness, libido awakens. Some is awkward and wound internally, while some, especially in Norman (Manoel Felciano), is like a Chesire horn dog, all randy for the nearest leg pole. Or bramble bush. His wife Ruth (René Augesen) conveniently turns a blind eye just long enough to get herself entangled in a case of mistaken lust.
If not exactly an over-the-top success, this A.C.T. production does have enough to like.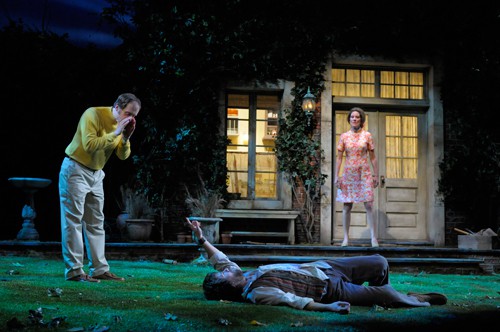 Tops on my list is the set. Lush green, with some of the most realistic trees, leaves and grass you'll see on any stage. A.C.T. should partner with TheatreWorks down the peninsula and start wholesaling the stuff. It's really luscious. Loni later told me after the show that she wanted to go inside the small home to house right. It looks so well finished and detailed, indeed with many of the scenes taking place in the kitchen just behind the rear door.
The acting, too, is a plus. Top notch. Each character is fully realized, and each their own. Finally we get to see Anthony Fusco loosen a little, what with his jumping jacks, sunglasses and polyester jacket. I'm so used to see him play stiff, calculated. It was a welcome change.
Dan Hiatt is really sharp as an analytical veterinarian trying to somehow unlock a mid-life spring awakening.
The weakness here is the story. Aside from a clever opening announcement that got the show off to a zinger-of-a-start, the first act drags, often with awkward transitions, despite the lack of a single set change. The couples do go round and round the garden, wishing for this and that, commenting on this and that. Pontificating. And occasionally wondering if the cat will ever come down from the damn tree already.
It over-intellectualizes the bawdy. And yes—wink, wink—I admit, perhaps it says more about me than the show.
I realize the style is what it is; it's not in the Austin Powers (albeit, American/Canadian) or Monty Python vein. However, I'm sure it was fresher and zanier during its 1973 world premiere in Scarborough, England.
There are some memorable scenes. One great example: sitting on most uncooperative lawn chairs, Dan Hiatt as Tom begins to act on his inner Casanova, while René Augesen unwittingly eggs him on, communicating on a whole different, yet compatible, level. It was a wonderful demonstration of timing and reaction. Earlier, a ball tossing game is given a middle-class twist that, of course, causes certain confusion, ending in a sexual trist.
Round and Round the Garden is ultimately a mixed bag. There are laughs, clever dialog and indeed several hysterical, raunchy scenes. But it's encased in such a sense of intellectual melancholy that the production never reaches a boiling point.
Round and Round the Garden
By Alan Alyckbourn
American Conservatory Theater, A.C.T. (San Francisco)
3 out of 5 stars
Directed by John Rando
Starring René Augesen, Anthony Fusco, Marcia Pizzo, Manoel Felciano, Dan Hiatt, Delia MacDougall
Through May 23, 2010
2 hours, with one 15-minute intermission