Politics. Just about any other subject is a better choice at a social gathering. However, in the world premiere of In the Wake at Berkeley Rep, railing about anything related to the system—be it the Republican agenda, the lack of Liberal organization or even tax policy—repeatedly crashes the most festive of taco-dipping parties with, as one of the characters would say, buzz-kill.
This is the second 9/11-centric play I've seen in as many weeks. Whereas Sonia Flew at San Jose Rep tugs at emotional heartstrings and portrays the drama with a dose of culture and back-flash, Into the Wake takes us into deep, political waters and challenges our thoughts, beliefs, and, ultimately, asks us to assess who we are, not only as a country, but also as individuals. The tough thing about blind spots, we learn, is that they're tough to spot. And yet, they're everywhere.
The voyage of self and politicking is told from the viewpoint of sexually confused, staunch liberal Ellen (Heidi Schreck), who rails against everything related to the Republicans, and later after the 2000 re-count is settled to her dismay, George W. Don't dare try to turn off the TV while CNN or MSNBC is on. Sure, the Minnesota Vikings may have a "really deep bench," but nothing beats a 24-hour fix of Meet the Press or Wolf Blitzer.
Her live-in boyfriend Danny (Carson Elrod) is an easy-going guy who is more concerned with keeping the party amiable. Non-stop trips to the kitchen for beer and wine helps his cause. Their best friends, a married gay couple (Danielle Skraastad and Andrea Frankle), live a few floors down and are constant companions.
Curmudgeon, buzz-kill herself, Judy (Deidre O'Connell), a social worker, prefers chain-smoking on the fire escape over socializing.
Then there's the romantic gay interest in Amy (Emily Donahoe), an intellectual artist who reluctantly inserts herself into the already insecure relationship between Danny and liberal hardball Ellen.
Projection aids in the story-telling with dramatic black and white footage of key players from the last decade of politics including Tony Blair, Madeleine Albright, Al Gore, Donald Rumsfeld, and, of course, W himself. Some of it made me cringe, no doubt the intent. He said that? Is this the United States?
Let's roll…
Early on the play feels like a Berkeley version of Friends; you know, the episode with the lesbians lovers down a few floors, the Aunt who works at a refugee camp, the outcast black niece and pilgrim's collars? But it's a bit of a rouse, to get us drawn into what appears to be the facade of simple, everyday life.
As I watched the play in the comfortable Roda Theatre, I realized that after ten years since that fateful day, we're starting to gain additional perspectives on 9/11 in a way that only the passage of time allows.
Dialog is heavy-weight and intelligent, yet accessible. The back-and-forth repartee will be familiar to anyone who has made the mistake of ever mentioning they'd like to have a beer with Bush or, as this case here, muttering that some people only experience "regular fear." Playwright Lisa Kron brilliantly captures the nuances and subtle transformation of conversation from innocence into full-blown confession and gut-wrenching family meltdown.
Don't tell me about your morals or ethics, show me your tax code.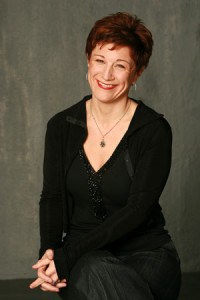 There's no doubting the liberal overtones here, but Kron pulls a fast one, and in one of the best moments in theater I've seen all year, Heidi Schreck and Deidre O'Connell tear away the superficial and go head-to-head on the worn couch, books and nick-nacks strewn about around them. It's soul-baring time. And what wickedly effective performances!
The casting is inspired. Each of these actors embodies their roles so believably you can instantly peg each with a real-life counterpart. My only nit here is Mariam F. Glover as Tessa whose small role is used too obviously as a plot device.
Later in the second act, people are changing, along with the political backdrop. At times—what is this place? where am I?—it might even be a Talking Heads song.
Why is it the lighting is always so incredible at the Berk Rep? During monologues the frame of the stage is bathed in blue, green or white. The subtle changes interplay so elegantly with our emotions and the actors, that it heightens our connection with the material.
It's a moot point whether you're a Republican, Democrat, neutral, independent, non-voter. Or even Canadian. Everything here is a potential target, especially The Big 3: Art, Religion, Sex. Even Intelligent Design is ridiculed (shooting fish in a barrel, I say). In the Wake is all about the blind spot; trying to find out who we are in the context of transformational politics and personal relationships. The problem is you can't see it, no matter how hard you try.
In the Wake
World Premiere
Berkeley Repertory Theatre
4.5 out of 5 stars
Directed by Leigh Silverman
Lisa Kron, Playwright
Starring Heidi Schrek, Carson Elrod, Andrea Frankle, Danielle Skraastad, Emily DOnahoe, Deidre O'Connell, Miriam F. Glover
2 hours, 45 minute (one 15-minute intermission)
Through June 27, 2010
Noteworthy

Terence (PR for the Rep) seemed disappointed we weren't on location with video on this particular evening. Never fear, though, you can catch a glimpse of our regular cameo performer on page 15 of the latest Berkeley Rep Magazine; there he's spotted with the "Reptiles" to take in the American Idiot opening on Broadway.
Opening night galas at Berk Rep are first rate; be sure to enjoy the after-show catering and always-colorful libations.
This time the car did not break down, and we made it back to San Jose without having to stop for anti-freeze. The check engine light, however did come on (again); will Loni buy a new car?
Congratulations! Two of the performers from the production, Heidi Schrek and Deidre O'Connell, won Obie Awards on Monday for the off-Broadway production of Circle Mirror Transformation.
The play originally premiered at Kirk Douglas Theatre as The Wake. From my understanding, Berkeley Rep changed the name to 'In the Wake' and I think for good reason; the connotation suits the material better… and the double entendre still works. See this Tweet.
Next up: Fireworks Festival. June 1-12 John Leguizamao's Klass Klown; June 14-20 An Evening with David Sedaris (sold out); June 24-26 Dan Hoyle's The Real Americans; June 30 – July 1 Dan Hoyle's Tings Dey Happen; July 2 – 3 Wes Nisker's Crazy Wisdom Saves the World Again.
Weapons of Mass Destruction were never found.