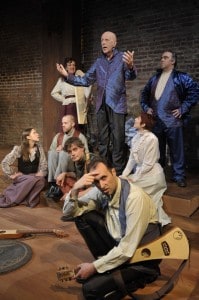 The world premiere of director/playwright Stuart Bousel's Giant Bones, a clever assimilation of four stories by author Peter S. Beagle, opened over the weekend at EXIT Theatre in San Francisco. It's an intriguing and challenging piece that once again demonstrates the power of small, black-box theater. In the tech world, this would be a start-up; an abundance of fresh ideas and new thinking, mixed together with exuberant talent and grandiose vision.
It's not mainstream theater, nor should it be. If the idea is to provoke, as Bousel suggested to us earlier in the evening during an interview, then mission accomplished. There are so many layers of abstraction, some obtuse others verbally acrobatic, that it can be intense. At times I thought my mind would explode.
Without giving away too much, the story revolves around a touring theater company. Set in medieval times, there is a strong fantasy element, occasionally reminding me of Dungeons and Dragons, especially the visually striking giant that sits atop a mountain, awaiting a passerby to take prisoner.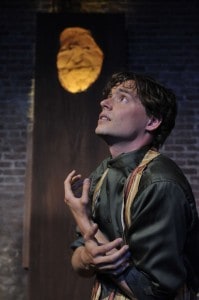 There is a play-within-a-play. A fourth wall might be broken, or not. Elements of myth, magic, mystery and absurdity combine to create a land that sears the mind with its originality.
A talking fish plays a key role in helping an ingenue escape a marriage with the much older King. Then they too become fish. There is a power lusting Queen who toys with magic, with amusing results.
At the center of all the mayem, trying to maintain order is Dardis, played by Rik Lopes, in a fabulous performance. He chastises the troupe, urging them to maintain focus, while struggling to keep their profile in the world of live theater from slipping further. Lopes can take the simplest of lines and with well-timed, natural gestures give it striking depth.
Jay Smith as The Jiril is a commanding, if slightly perturbing, presence. His tall lanky frame and shaved head, together with deeply etched features would be at home in Clive Barker's Hellraiser. That he opens the play, reading a children's story with a booming voice, is part menacing, part fantastical.
The music performed live by the actors, including drums and renaissance instruments, enhances the magical quality of the story unfolding before us.
I've never read Peter S. Beagle before, so I can't comment on how successful Bousel is in adapting his work for the stage. But there's no doubt that he demonstrates keen ability in weaving together so many disparate elements and staging a creative and immersing production. And all of this with the most minimal of sets; there are a few simple red drapes to the sides, some chairs, and minor props. The rest is left to the cast to bring to life.
It left me impressed with what good, vivid story-telling can achieve. Loni and I both felt like we'd been on a wild adventure to a far-away land. Our minds were melting every-so-slightly when we exited into the cool San Francisco air, but it was a memorable evening. What a journey!
Recommended, but be ready for some innovative, black-box-style story-telling. I agree: "Theater is all about the surprises."
Giant Bones
Exit Theatre, San Francisco
Director/playwright Stuart Bousel
3 out of 5 stars
Starring Mikka Bonel, Sara Eve Breindel, Katrina Bushnell, Warden Lawlor, Rik Lopes, Kai Morrison, Paul Rodrigues, Jessica Rudholm, Jay Smith, Chris Struett
Production team: Jim Lively (Sound Design), Ann Monn (Graphic Design), Kai Morrison (Music), Jennifer Pokas (Costume Design), Joshua Saulpaw (Stage Design), Wil Turner (Lighting Design), Lanie Wieland (Props and Puppets)
Through June 19, 2010
www.giantbonesplay.com