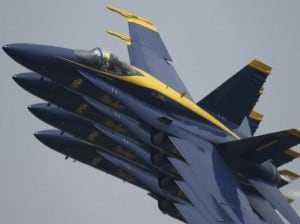 UPDATE: The benefit performance by Sandy Hackett's Rat Pack Show has been updated to June 24.
The San Francisco Fleet Week Association announced that San Francisco Fleet Week 2010 will be held October 7-12, 2010. To kick off fundraising efforts for Fleet Week 2010, a special benefit performance of Sandy Hackett's Rat Pack Show will be held on Thursday, June 24 at 7 p.m. at San Francisco's Marines' Memorial Theatre.
Featuring honorary co-chairs Senator Diane Feinstein and former Secretary of State and U.S. Marine Veteran George P. Shultz, this annual event pays tribute to Sailors, Marines' and Coast Guardsmen serving our nation. In addition to the Parade of Ships' ship tour, the world famous Blue Angels and military band concerts, Fleet Week 2010 will include several new events including civilian and military training for disaster relief and demonstrations of U.S. Navy and Marine capabilities to assist in disaster relief and recovery in the event of a major earthquake in the Bay area. The U.S. Navy's 3rd Fleet will be sending a task force of ships, including an Amphibious Assault Ship (LHD), a Guided Missile Frigate (FFG), and a Guided Missile Destroyer (DDG). Fleet Week 2010 will also be a part of the 142nd Annual Italian Heritage Parade on Sunday, October 10. As the City's oldest civic event and the nation's oldest Italian-American parade and community celebration, this year's parade will feature military bands, a color guard, a Fleet Week Grand Marshall and more.
"The capabilities of the Naval forces to provide disaster relief was once again demonstrated in Haiti recently. The presence of the 3rd Fleet ships in San Francisco's port during Fleet Week provides valuable opportunity for local Bay Area governments to update disaster relief plans in the event of a large earthquake. We don't want to waste that opportunity," said Major General Mike Myatt, Chairman of the San Francisco Fleet Week Association.
Sandy Hackett's Rat Pack Show, currently playing at Marines' Memorial Theatre, celebrates the original Rat Pack's legendary Las Vegas performances at the Sands Hotel and takes audiences on a journey back to the days of highballs, hi-jinks and happy hour with Frank Sinatra, Sammy Davis, Jr., Joey Bishop and Dean Martin. Produced by Sandy Hackett – son of the late, great comedian and actor Buddy Hackett – and Lisa Dawn Miller – daughter of legendary songwriter Ron Miller – Sandy Hackett's Rat Pack Show features the classic songs everyone knows and loves such as "For Once in My Life," "My Way," "Mack the Knife," plus original, never-before-heard songs written by the late Miller.
Tickets for the special benefit performance of Sandy Hackett's Rat Pack Show on Wednesday, May 19 are $50 and are available now at the Marines' Memorial Theatre box office, by phone at 415-771-6900 and on the Web at www.marinesmemorialtheatre.com.