Guest post by Jane Lurie.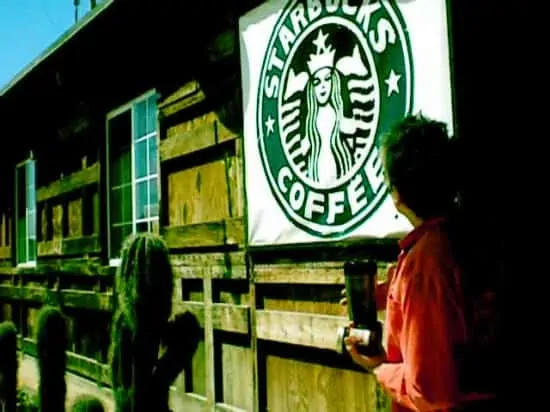 With our favorite fish tacos, walks by the water and a comfortable night behind us, we left Estero Beach Resort at 8am heading to El Rosario for breakfast.
As we entered Vicente Guerrero, which is 2-2 1/2 hours south of Ensenada, a huge Starbucks sign caught Sharon's attention and we pulled up in front of the Baja Fiesta Restaurant.
We went in to get some coffee, meaning to continue on our way, but we were drawn to the large, clean, friendly ambience inside.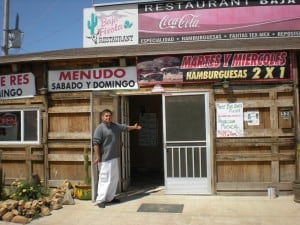 We were greeted by Ivan Salazar who started Baja Fiesta with his mother, Secilia Cruz Mendosa. Ivan was a wonderful host giving us a tour of quite a large operation. They grow their own fruits, which they make into homemade jams. They also grow cilantro, vegetables, roses and more. We took a jar of their canned mole sauce with us and made a great chicken mole dinner after we arrived at our casa in Loreto. They have a taco stand where they sell fish tacos during the winter and hamburgers and hotdogs in the summer. They have a playground area for kids under 5. They have live music on weekend nights and happy hour every night. And, if your Baja buggy is in need of some work…they actually have a body shop in the back at your service.
Carol Burnett's latest autobiography was touching and also hysterical… we were laughing until we were in tears.
We decided to have breakfast there. Sharon and I shared an order of huevos rancheros. We have started trying to share meals whenever possible…it usually is enough and this is a great line of defense against the natural sprawl of girth that happens as we cross the border and head south.
The meal was light, fresh and delicious. Sharon had the homemade raspberry jam on toast and said that it too was delicious. We were very pleased to have made this discovery.
Ivan and his family are local to Vicente Guerrero but also have spent several years in the states, so there is a blend of sensibilities that made us feel very comfortable.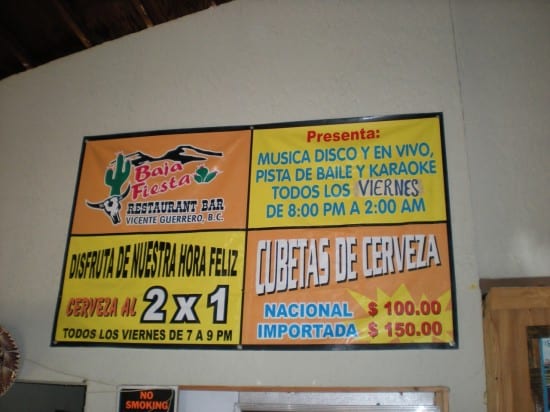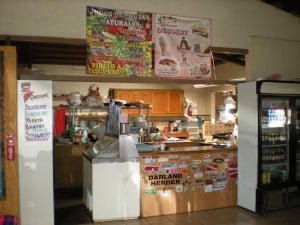 We set off from Vicente Guerrero refreshed, and energized by a fun tour of Baja Fiesta and headed for San Ignacio. This 10 hour drive felt especially long to us because of the extended driving day the day before.
We got through both of those days of driving by listening to 2 books on CD. The first was Carol Burnett's latest autobiography. It was perfect because it was touching and also hysterical. There were a few times that we were laughing until we were in tears….that helped offset the impact of adding 3 and 1/2 hours to our trip. When that book ended we turned to one of our favorites, Elizabeth Gilbert's new book "Commitment, A Skeptic Makes Peace With Marriage".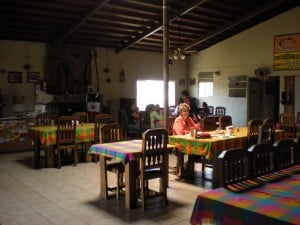 Of course this is not another "Eat, Pray, Love" but it's a fascinating journey through her thought processes as she and her partner, Felipe, a Brazilian-born man with Australian citizenship, wait for permission from our government to marry. Both of them had a great aversion to marrying after having experienced very painful divorces.  So, as they travel in the far east waiting for an official sanction of their union, they have many adventures, their relationship matures, and we learn a lot about the nature of marriage in the villages she visits. We went to see Elizabeth when she was at the Marin Center. She talked for 45 minutes straight with no notes mainly about this book and her life and was completely entertaining, charming and captivating. This is why we feel that the best way to enjoy her books is to listen to her tell her story.
This morning at 7, in Loreto, we went for a walk around the golf course with our friend Ariel. When we got to the high tee's, we stopped and did some stretches. Soon I will take a camera with me on one of those walks so I can share with you the beautiful view of Loreto Bay, the mountains and the sea that we have as we stretch.
Read about Day 1: On the road back to Loreto.