Guest post by Jane Lurie.
Loreto time is at work as I try to remember how long we have been here…it's either forever or 5 days. Once we arrive, we slip into timeless mode and seem to glide through our days seamlessly and already way too quickly. We spent some time this first week celebrating and enjoying our friends Eve and Steve's new home in the far reaches of Agua Viva. They waited 4 years, gathering furniture from their home and second-hand stores…and once they had access to their place, they immediately transformed it into a beautiful, cozy, welcoming home.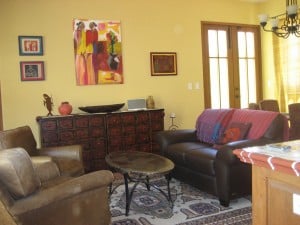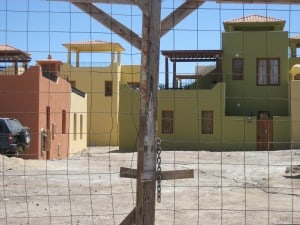 Located in the middle of partially completed homes, lots of dust, construction fencing, and have I mentioned lots of dust, it's an island of bliss that makes you completely forget what you just walked through to get to it the minute you enter their courtyard.
This is the story told many times over at Loreto Bay. Despite all the ups and downs, rumors, struggles, failures of companies, etc. those of us who are lucky enough to have been able to hang on for the ride, are enjoying the blessings of an amazing community of friends and the joy of living in our homes.
But, actually, that's not what I meant to write about today. I want to share with you a bit about our drive down here. We left Oakland at 3am on Thursday, April 29th, planning to arrive in Ensenada by 3 ish. That way we could relax, get tacos from our favorite stand and be fresh the following morning for our trip to San Ignacio on Friday. Spring was here. Summer rapidly approaching. We were heading south. Apparently none of that meant that we shouldn't check the driving conditions on the Grapevine. It turns out that there was snow on the Grapevine and it was closed. We found out way too late. A police officer told us to take a road through a state forest and past many small towns to the coast above Santa Barbara. This oversight added 3 1/2 hours to our trip. We arrived in Ensenada around 6:30. The good news is that the owner of the taco stand made us some fish tacos even though he was closed and cleaning up. But we've learned our lesson…always check the state of the Grapevine.
The next morning, we slept in, meaning we didn't leave until 8am. We were heading to our traditional breakfast stop..Mama Espinozas in El Rosario. As we drove through Vicente Guerrero, a small town on the highway, Sharon saw a huge Starbucks sign, made an immediate right turn and stopped right in front of a new restaurant (new to us that is) called Baja Fiesta. We were actually delighted with what we found and who we met inside. I'll tell that story in tomorrow's entry. For now I will step away from my desk and wander down to the beach.