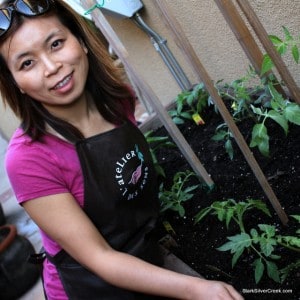 Now that spring is here, it's time to get planting. For you urban gardeners with tight space, check out my wooden vegetable planter box plans. I'm so happy that its received over 1,200 downloads now from all kinds of places around the world including New Zealand, UK, Australia, Canada, France, Germany, and, of course, from all across the beautiful USA.
In this episode I kick Spring off with a fresh batch of plants including tomatoes and peppers.
I share some tips and tricks for planting including fertilizers to use, plus an idea or two about spacing, variety, and pruning. Basically, show your garden lots of love. And it will love you back with lots of great veggies you can use in your kitchen.
The other nice thing about using a planter like this is, as you'll see in the video, you can garden at waist height. Your back will thank you!
Now if only I could get Clint to stop playing with his Canon T2i and give me a hand spreading out this chicken manure.
Vegetable Gardening with Loni Stark

Download: DIY Planter Box Plans
Learn more: Videos, blog posts, photos, tips and tricks