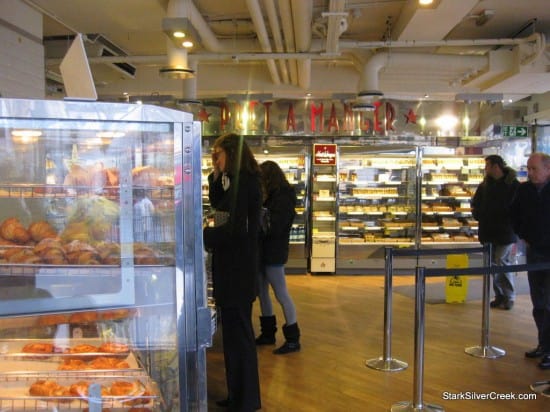 It didn't take long after landing in London to find myself wooed by several Pret a Manger eateries along the busy, wet sidewalks.
The last time I was in London if you recall, I fell in love with Pret a Manger's Hoisin Duck Wrap ("Pret a Manger? Abso-bloody-lutely!") and it was only a matter of time before I succumb to the cravings.
After a very good meeting at the Royal Courts of Justice, I sauntered into the Pret a Manger at Strand and greedily soaked in the climate-controlled shelves of familiar sandwiches, salads, deserts and new product lines that Pret has expanded into including porridge as many posters around Pret proudly announced.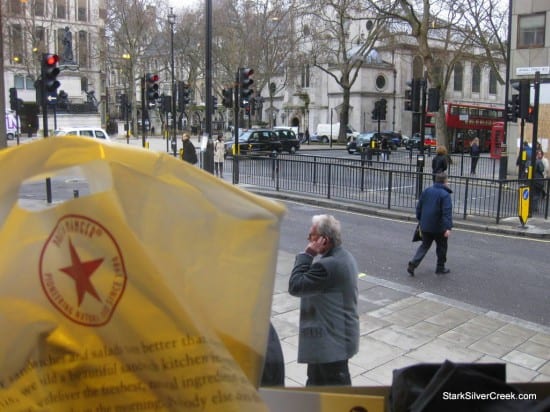 It was a gray, damp, cloudy day outside. However, Pret was a cleverly created atmosphere of warmth, delicious goodness and groovy music. Somehow sitting on the bar stool, peering out, I relished that I was sitting in the warmth of Pret, hands circled around a Hoisin Duck wrap, a mouth watering in anticipation.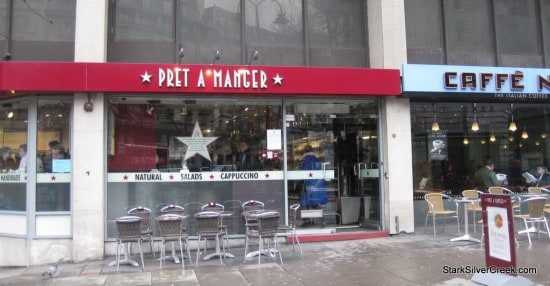 Somehow, Pret, like a trendy clothing store, has created an atmosphere that makes you want to linger and somehow the coolness associated with Pret gets rubbed off on you. It is one of the chains which I think has been able to transform a act of sheer necessity…eating…into a sensory experience that appeals to both our indulgent and pragmatic side of life.
Okay, enough poetics, here are the shots of my lunch after my meeting with Nigel and his team at Royal Courts of Justice. As an aside, while I was entering Pret after my meeting, I bumped into Nigel exiting Pret…he too must like this little piece of sanctuary.