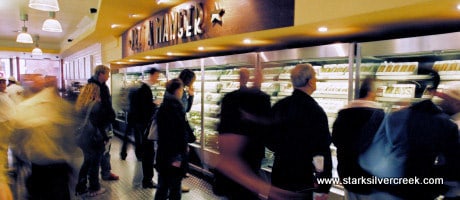 It's no secret that the British are not known for their cuisine. Most English folks will admit to that. Even those that are die-hard steak and kidney pie fans will sheepishly acknowledge this.
So it is fitting that one of my favorite lunch spots in London this week is a place with British roots but a French name. "Pret a Manger" with proper accent circumflex and grave (prêt à manger) translated means "Ready to Eat".
With the snazzy motto, "Eat with your head", this breakfast and lunch shop offers handmade natural food free of preservatives — fast. Each evening the unsold product is thrown out or donated to a local charity. Now if it was only healthy I wouldn't be writing about it…it is not only healthy but crave-alicious!
Here are my favorites over the course of the two days I was able to have my lunch there.
The Chicken Avocado Salad (3.99 pounds = $6.45 USD) was delicious, but I still can't get my mind off the Hoisin Duck Wrap (3.10 pounds = $5.01 USD).
Their sandwiches and salads are very good — I guess so good that investors were willing to pay £345 million
The company was started in London in 1986 by two college friends, Sinclair and Julian; the chain is private but has expanded into the US and Hong Kong while maintaining its home-base in London. All the US stores are in New York. The 150 shops so far generate revenues of 150 million pounds a year.  When I say they are private, they are private — all the stores are owned by the company, no franchises.
[At this point I Googled "Pret a Manger" and I found the Wikipedia entry]
Now hold on a sec. Just before you and I both get an image of Sinclair and Julian growing old making these healthy sandwiches, a picture their website seems to paint, Wikipedia notes:
In 2001, McDonald's bought a 33% non-controlling stake in the US branch of company
In February 2008, Sinclair and Julian sold Pret a Manger for £345 million to a private equity firm called Bridgepoint
and the US investment bankGoldman Sachs.
The things I learn when I write these entries.
One of the founders does seem to be still involved. Their website states under customer service:
"We are here to help.  Janet and her team man our email from 9.00am to 5.00pm,
Monday to Friday, and respond quickly.  Please click on one of the links on the
left-hand side to speak to us.  Our Managing Director (Andrew Walker) and
Co-Founder (Julian
Metcalfe) are available if you want them (no kidding)."
Well, their sandwiches and salads are very good — I guess so good that investors were willing to pay £345 million for it.
Hoisin Duck Wrap…maybe I can find a Pret a Manger on the way to Heathrow tomorrow…