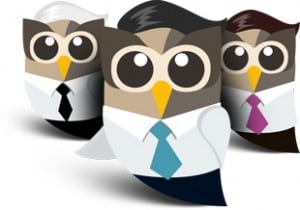 HootSuite is a company on the move, and and their latest update adds some interesting collaboration capability to an already strong product. I've been tracking them closely for the past 6 months or so, and based on their rapid product release cycles and continual innovation I'd say they've got a sizable R&D budget – especially relative to Web 2.0 companies which often need to scrape by with minimal resources.
With Twitter and Facebook leading the social networking wave, a handful of start-ups are now trying to create killer dashboard-like apps aimed at managing online presence, and brand. And these guys mean business. You can tell: Owls with ties and glasses (I think those are glasses) look the part.
HootSuite was one of the earlier players in the march towards third party all-in-one Twitter web apps. Initially used to schedule Tweets (which can be valuable for businesses and enterprise customers) and manage multiple accounts, it has blossomed into a full-blown suite of powerful tools.
Short of it: if your company is serious about social networking, HootSuite warrants strong consideration by your marketing department (or agency).
So, what's new?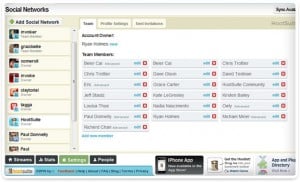 One of the challenges of managing social networking accounts (not to mention brands and identities, especially at large enterprise companies) is maintaining organization of all the people needed to control and manage them.
A product marketing manager, for example, might liason with a communications manager to orchestrate a branding effort using Twitter and Facebook for an upcoming product release. Engage. Engage. Prospect. Prospect – one Tweet at a time; creating conversation with interested people, spreading the word and generating buzz.
To do this effectivly requires control.
So HootSuite has answered the call with the ability to add multiple users to a social account. One person is still the gatekeeper and can assign basic or advanced control to team members.
Facebook should take a page from HootSuite and implement similar features for Facebook Pages. What happens when an account owner leaves the company, or changes jobs? With HootSuite you can transfer the account ownership. With Facebook Fan Pages you can't, which is a serious shortcoming.
Large marketing departments and agencies who manage multiple clients should find this new control really useful. Best of all, it's free. At least for now, the company indicates it is investigating paid services. I'd expect a three-tiered pricing model: free, SMB and enterprise. This would be similar to video hosting platforms like Brightcove and Viddler. HootSuite may not be generating much (or any?) revenue now, but if they can keep increasing the value of their offering, they should be handily rewarded in due time, be it top-line dollars or acquisition.