Legally Blonde is a light-hearted, breezy musical that perfectly caps the Broadway San Jose inaugural season. It's pure pink bubble gum, and even the most curmudgeon-ed theater-goer would have a hard time resisting its infectious energy and charm. You can't help but root for Elle Woods (Becky Gulsvig) who dances, sings, and shops her way through the 130-minute show with an easy smile and can-do spirit. Be true to yourself and good things will happen.
Every character and every plot turn is completely expected and cliche. Elle earns respect from her law professor ("scruples are a flaw"), only to later be hit on. Her boyfriend dumps her for someone more appropriate for a Vanderbilt. And even though she's the most atypical Harvard student of all time, she still wins over her class, cracks the case, and saves the day.
But no matter, it makes no difference. We're here for the music, the dancing, the fun. And on all accounts Legally Blonde is a winner.
With Reese Witherspoon so ingrained in my mind as Elle, I wondered how Becky Gulsvig would fare in the lead role.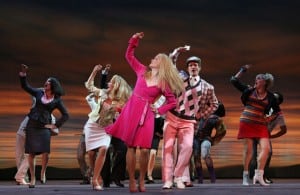 Any doubts are quickly erased the moment she crashes through a poster, beaming and arms stretched as if just crowned Miss World. Gulsvig manages to instantly make the role her own. She carries the show with flare, never over-extending or pushing too hard. As a result other performers shine too, such as the courtroom scene where Elle becomes mostly spectator.
Let's also not forget her little dog Bruiser; nothing like cute puppies to win over a crowd, who oohed and awwed at every well-trained, cute sighting.
The music and choreography flowed well too. Often having so many performers on stage can be a recipe for shrill overload, but it's not the case here. Instead we're treated to wonderful dance moves, perfectly synchronized. It was hard later, walking out of the performing center, to let go of the song "Omnigod You Guys" which bookends the show. Loni kept humming it next to me, a bounce in her step.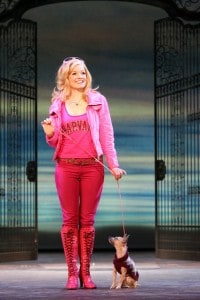 If you're a fan of clever framing and set changes, you'll appreciate some of the techniques used to briskly keep the action moving. Three large, lit beams, one horizontal atop and two vertical at the sides, slide up and down, left to right as if cropping a photo, and serve to frame scenes expansively or intimately. One moment we're in a department store, the next Elles' crazy pink dorm room.
While Legally Blonde is not a ground-breaking production—see Spring Awakening—it's not meant to be either. But it's darn good, effective entertainment (and won 7 Tony Awards on Broadway in 2007). It is what it is, and it does it extremely well. I'll admit that I was not exactly thrilled with the prospect of sitting through a two-hour "chick flick for the stage." But I'd be wrong. At the end of the show, we we're all smiles. A quick scan of the audience revealed more of the same, a good time was had by all.
Legally Blonde
Broadway San Jose
San Jose Center for the Performing Arts
4.5 out of 5 stars
Through March 21, 2010
Noteworthy

The show is 2 hours and 25 minutes long, including a 15 minute intermission.
By the numbers: 20 songs, 19 scenes, 14-person orchestra.
Average Harvard LSAT scores are in the low 170s – it does help if you know Oprah.
The Hair Affair scene with musical number "Ireland" was a perfect salute to St. Patrick's Day, the day we saw the show.
Is it the San Jose water? There were several understudy announcements; including Casey Leigh Thompson as the District Attorney. There were so many others rapidly announced over the PA I didn't get a chance to note them.
In its first year on Broadway, Legally Blonde The Musical earned seven 2007 Tony Award nominations, ten 2007 Drama Desk Award Nominations, a 2007 Outer Critics Circle Award and the chorus of the musical was honored by Actors' Equity Association's Advisory Committee on Chorus Affairs (ACCA) with the first ever ACCA Award. The musical also ranked in the top ten list of the most requested Ticketmaster "Arts & Theatre Events" for 2007.
Becky Gulsvig, the Elle understudy in the original Broadway cast, is Elle Woods in the tour. Fans of the MTV reality show "Legally Blonde The Musical: The Search for Elle Woods", which premiered on June 2, 2008, will recognize a familiar face in the tour casting: Third runner-up and fan favorite Rhiannon Hansen appears as Elle's best friend Margot.
The Original Broadway Cast Recording was released on Ghostlight Records and captured the #1 slot on the Billboard Cast Album chart and charted at #86 on the Billboard Top 20.
Broadway San Jose 2010-2011 season begins Sept. 21: Burn the Floor, Rain, The Color Purple, Grease, Fiddler on the Roof, Stomp, Mamma Mia!