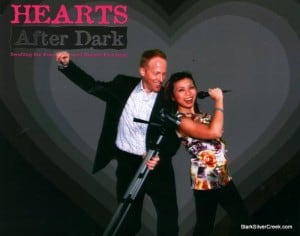 Pam Baer, San Francisco General Hospital (SFGH) foundation board member, and her entire organizing committee should be very pleased. Yesterday, hearts came out in force to support the non-profit and celebrate under the stars. Union Square was transformed into a shimmering meeting and dining area thanks to the clever use of a large, hard-framed tent structure. It was large and impressive. But even more so were the events themselves.
First, a luncheon called Heroes & Hearts was held to honor individuals doing amazing things for the community. Later, the place transformed into a hip night club and lounge for the Hearts After Dark celebration. To date over $5M has been raised to benefit the foundation which is dedicated to improving the care and comfort of patients at San Francisco General Hospital.
It's my understanding that over $1M was raised yesterday alone, but I'm awaiting official confirmation on the exact number.
Loni and I attended the evening event. It was chic, fun and happening.
Hors d'oeuvre and cocktails aplenty were enjoyed by what Pam Baer called a younger generation of supporters. The music featuring Tainted Love, DJ Solomon with a special appearance by Beach Blanket Babylon also received raves.
As usual we battled traffic up 101 to get to the event in time, running the last half mile in a light rain. But it was worth it.
Check out the video for all the action, and be sure to support the SFGH foundation. Our thanks to Pam Baer for spending time with us to discuss the cause.