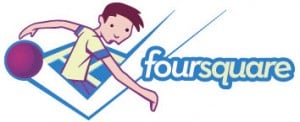 Like a lot of people, I've been following the latest social networking craze. It's called Foursquare and it allows you to "check-in" using your smartphone when travelling to various venues around town.
To date, users could take satisfaction in gaining points and unlocking badges, much like a video game… only this one is based on your actual physical location. But that may be changing. Now Foursquare is inking deals that will allow it to offer tangible stuff including coupons and promotions.
Is this the future of loyalty marketing?
The latest deal, announced today, was struck with Bravo TV (interesting choice). It is a clever experiment in aligning real life consumer behavior (such as going to a restaurant) with television shows. Over 500 Bravo locations have been defined and Foursquare users (players?) can now unlock more badges, enter sweepstakes and win special prizes. Shows that will be integrated into the campaign include "Top Chef," "The Real Housewives," and "The Millionaire Matchmaker."
A cynic might suggest this is the continued march down the path to less privacy, more spam.
It might be true, but then again all Foursquare participation (like competitors GoWalla, Brightkite) is voluntary. Like life on social networks, consumers will need to be comfortable with sharing a certain amount of personal information (I am here!) with the masses.
This is not the first content deal Foursquare has struck, and certainly it won't be the last. Earlier this month they partnered with Metro to provide integrated reviews and information. If you're near a restaurant covered by Metro, for example, a tip, review or other relevant information might pop up on your phone.
Everyone seems to be adding "check-in" functionality. Recently Yelp included it in its very popular online review application for restaurants, events, and other destinations. Invariably Foursquare is on a collision course with Yelp. The latter, however, has much deeper user-generated content, years in the making. Foursquare will need to move fast to stay in the game.